The US Navy (USN) has successfully completed an airworthiness test of a radio frequency countermeasure pod prototype on a Boeing P-8A Poseidon maritime patrol aircraft.
The radio frequency decoy was tested at the Naval Air Warfare Center Aircraft Division Atlantic Test Ranges in Patuxent River, Maryland on 12 March, the service said on 9 April.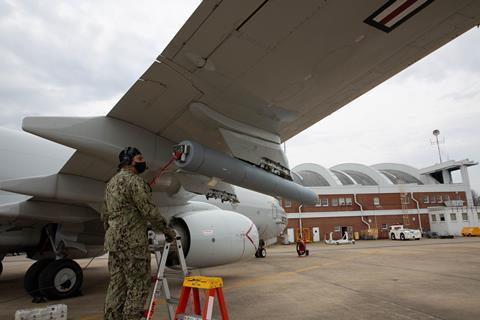 The countermeasure prototype is based on BAE Systems' ALE-55 fiber optic towed decoy, but in a different pod shell. The shell is based on the Boeing AGM-84 Harpoon anti-ship missile, which already has an airworthiness certificate with the Poseidon.
It took just a little over a year to get the pod into testing, says the USN. The countermeasure is designed to protect the P-8A from radar-guided surface-to-air missiles.
In addition to using parts from existing systems, the service fast-tracked the development of the new decoy by relying on an Other Transactions Authority contract, a sort of government contract that has fewer regulations and a streamlined process.
The USN plans to continue testing the countermeasure pod before working on additional aircraft integration and then a fielding phase.
The P-8A is the USN's premier surface ship and submarine hunting aircraft. It carries a small arsenal of anti-ship missiles and torpedoes.
Decoys, such as the ALE-55, are towed behind an aircraft and jam incoming radar-guided missiles. As a last resort, the decoy will mimic the radar cross-section of the aircraft being protected in a ploy to draw away an incoming missile.
BAE, as well as Raytheon, was selected by the USN in 2019 to develop and demonstrate competing versions of a dual-band towed decoy for the service's Boeing F/A-18E/F Super Hornet fleet. BAE put forth an upgraded version of the ALE-55 for the competition.
Correction: The article was changed on 13 April to note that the ALE-55 put forth by BAE for the US Navy's F/A-18E/F dual-band towed decoy was an upgraded variant.