The US Senate on 9 June confirmed General Charles Q Brown to be the next US Air Force (USAF) chief of staff, approving him by a vote of 98 to zero.
Brown is set to become the first African American to serve as a military service chief in US history. He will replace current USAF chief of staff General David Goldfein and is set to be sworn in on 6 August.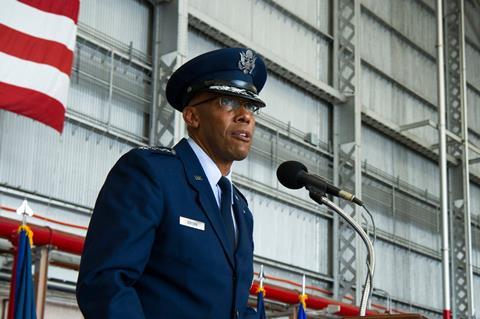 Brown is US Pacific Air Forces commander and air component commander of US Indo-Pacific Command at Joint Base Pearl Harbor-Hickam, Hawaii.
Brown was commissioned in the USAF in 1984 as a graduate of the Reserve Officers' Training Corps programme at Texas Tech University. A Lockheed Martin F-16 pilot, he has more than 2,900 flying hours, including 130 combat hours.
As head of the USAF, Brown will also lead the recently created US Space Force. He will serve under civilian secretary of the air force Barbara Barrett.
The historic confirmation came after two weeks of nationwide protests calling for police reforms to address alleged widespread racial bias against African Americans. The protests erupted after George Floyd died while pinned under a Minneapolis police officer's knee on 25 May.
Brown addressed his own experiences with racism in a video posted to Facebook on 4 June.
"I'm thinking about how full I am with emotion, not just for George Floyd, but the many African Americans who have suffered the same fate as George Floyd. I'm thinking about protests in 'my country 'tis of thee, sweet land of liberty,' the equality expressed in our Declaration of Independence and the Constitution that I've sworn my adult life to protect and defend," he said in the video. "I'm thinking about a history of racial issues, and my own experiences that didn't always sing of liberty and equality. I'm thinking about living in two worlds, each with their own perspectives and views."
Brown also said he felt the weight of the nomination and the difficulties that come with trying to make the USAF a more equitable organisation.
"I'm thinking about the immense expectations that come with this historic nomination, and particularly through the lens of current events plaguing our nation," Brown said. "I'm thinking about how to make improvements, personally, professionally and institutionally so that all airmen, both today and tomorrow, appreciate the value of diversity and can serve in an environment where they can reach their full potential."