The US Air Force Research Laboratory (AFRL) is researching potential sources for a new, larger air-breathing hypersonic engine.
The Expendable Hypersonic Multi-Mission Air-Breathing Demonstrator programme, referred to also as Mayhem, would be a competition to design, fabricate and integrate a large cruise missile, says the AFRL in a request for information posted online on 12 August.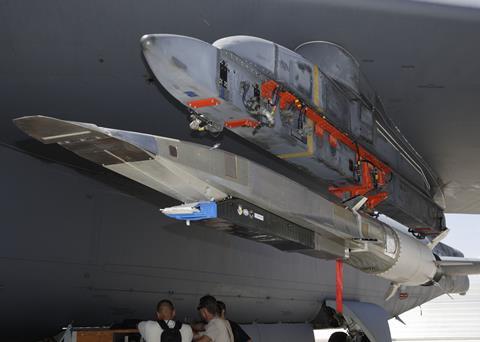 "The Mayhem System Demonstrator will need to be capable of carrying larger payloads over distances further than current hypersonic capabilities allow," says the research laboratory. "The payload bay will be modular and capable of carrying or delivering at least three distinct payloads in order to execute multiple government-defined mission sets."
The AFRL is looking for companies to partner into two teams, each which would develop a new propulsion system and vehicle design, as well as a plan to integrate the entire system. It wants the demonstrator to first take flight within a five-year timeframe, it says.
It wants the missile body to have a standardised payload interface, to make it easier to integrate multiple types of future payloads.
The US Air Force (USAF) and US Defense Advanced Research Projects Agency are working on an air-breathing Hypersonic Air-breathing Weapon Concept (HAWC) already. The weapon would use a scramjet engine to reach hypersonic speeds.
The USAF has said it plans to flight-test an example of HAWC in fiscal year 2020. A Lockheed Martin-Aerojet Rocketdyne team and a Raytheon-Northrop Grumman team are developing competing designs as part of the programme.