The US Air Force (USAF) is seeking industrial partners to deliver up to 160 "Bridge" tankers, a commercial aircraft-based aerial refuelling jet that the service intends to acquire after Boeing stops producing KC-46As in 2029.
The KC-Y jets will take pressure off the service's ageing Boeing KC-135s and fill a gap between 2029 and when the USAF begins acquiring another new asset under its future 'Advanced Air Refueling Tanker' effort, the service says.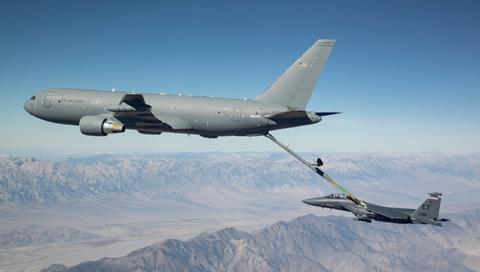 "As a commercial derivative aircraft, the Bridge Tanker will be based on existing and emerging technologies with a full and open acquisition competition. Neither developmental stealth nor unmanned capability is planned," the service says.
On 16 June, the Air Force Life Cycle Management Center issued a "sources sought" request soliciting names of potentially interested corporate partners, an initial step in the contracting processes.
The service seeks to acquire "140-160 commercial-derivative tanker aircraft – at a rate of 12 to 15 per year – to supplement the air force tanker aircraft fleet at the end of KC-46A production, and bridge the gap to the next tanker recapitalisation phase," the document says.
The USAF is now defining requirements and capabilities for Bridge Tankers and intends to issue a final request for proposals to industry before the end of 2022. The aircraft's "baseline… capability will be based on the requirements from phase one of the tanker recapitalisation programme", it says.
The service has given interested companies until 23 June to respond.
Boeing was selected to deliver 179 767-based KC-46As to the USAF, with deliveries ending in 2029, at which time its remaining KC-135s will be about 70 years old.