Qantas has reiterated its commitment to operating the Airbus A380 "for many years to come", announcing that it will return to service up to 10 examples from mid-2022 - a year ahead of schedule.
Detailing these updates as part of its full-year results, the Australian carrier says it will first reintroduce five jets, which are currently parked in the US, from July 2022, and these will operate flights between Sydney and Los Angeles, as well as to London, via Singapore.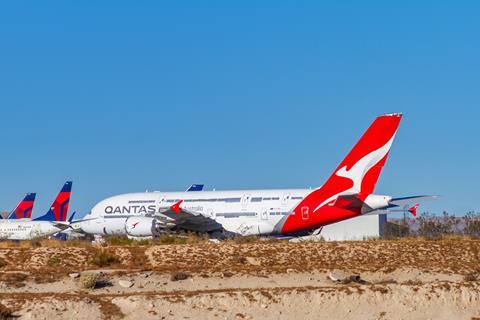 Says Qantas group chief Alan Joyce: "These were key markets for Qantas before Covid-19, and given how well they have recovered, we expect travel demand on these routes to be strong enough for the A380."
Joyce, in comments made at the airline's results release, adds that the airline "has the flexibility" to bring back another five A380s, "depending on how quickly the market recovers".
The remaining two A380s will be retired.
The returning A380s, which Joyce notes is a "great aircraft that our passengers love", will have refreshed cabin products. He did not elaborate further.
In February Joyce said the airline was very likely to return its A380s to service, especially on routes where tight scheduling is a factor.
The closely-watched fate of the Qantas A380 fleet comes as the type faces an uncertain future among other airlines in the region.
So far, only Singapore Airlines has indicated that the A380 will continue to operate for the foreseeable future.
In its full-year results released in May, SIA Group chief Goh Choon Phong told reporters that the 12 examples it has "will be put to good use in the future".
Other A380 operators, like Korean Air, intend to retire their superjumbos in the near term. Korean chief Walter Cho told FlightGlobal in an interview in early August that the A380s will exit the fleet in five years.
Malaysia Airlines, another A380 operator, has put its aircraft up for sale.
Qantas also disclosed that it will extend the range of its A330-200s to operate trans-Pacific flights, from Brisbane to Los Angeles and San Francisco.
"This involves some technical changes that are now being finalised with Airbus," the carrier states.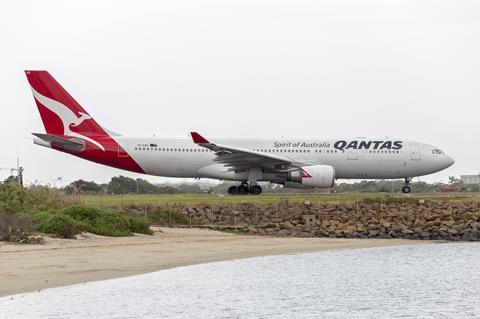 Cirium schedules data indicates that in pre-pandemic 2019, Qantas operated Boeing 787-9s between Brisbane and Los Angeles. Before that, it flew its now-retired 747s on the route.
The A330-200 was a mainstay on flights between Australia and Asia, and more recently was deployed to serve trunk domestic routes amid rising travel demand.
Qantas will also take delivery of three more 787s from July 2022, and throughout the 2023 financial year. These aircraft, which are the last three on order, are currently in storage with Boeing, amid reduced flying activity, says the airline.
Low-cost unit Jetstar, meanwhile, will take delivery of its first long-range A321neo from July 2022 as well. Cirium fleets data indicates the carrier to hold an orderbook of 28 A321LRs, and another 36 A321XLRs.
While it did not disclose which routes the aircraft will be deployed, Qantas says the extended range of the A321LRs will "free up some of its 787s to be redeployed" on other international markets.