Aegean Airlines has unveiled its new livery on the first Airbus A320neo to be delivered.
The scheme was unveiled at an official ceremony (above) in front of employees, attended by Greek prime minister Kyriakos Mitsotakis and Aegean chairman Eftychios Vassilakis.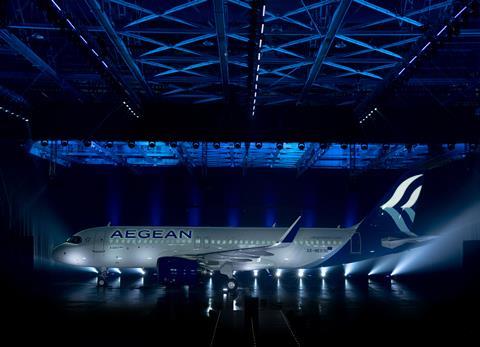 The Pratt & Whitney PW1100G-powered A320neo is the first of 46 scheduled for delivery over the next five years. The airline holds options on 12 additional aircraft.
Describing 2020 as "a new beginning", Aegean chief executive Dimitris Gerogiannis told attendees at the unveiling that "the next 24 months will be extremely creative for us, since we will design our renewed product offering", and he reiterated the company's commitment for ongoing growth.
The newly branded aircraft will begin operations this month, with the first A320neo entering service between Athens and Munich on 14 February.