Kazakhstan carrier Air Astana is returning a Boeing 767-300ER from a cargo to passenger configuration, owing to growing demand for passenger carriage.
As the coronavirus pandemic unfolded in 2020, the carrier converted one of its three 767-300ERs into a temporary freighter. The aircraft ultimately operated 300 cargo charters.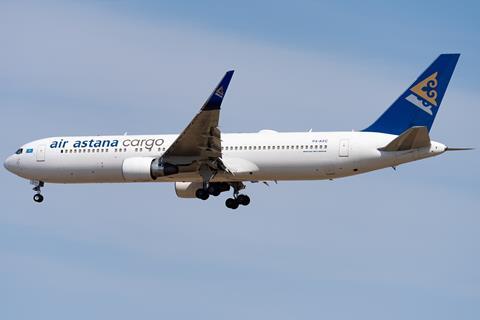 "It made an extremely good contribution…but we have taken the decision to convert it back to a passenger aircraft, as we have need for passenger lift on from larger aircraft on these smaller routes," says airline chief executive Peter Foster.
Air Astana technicians are expected to restore the jet to a passenger configuration by the week of 30 August.
Air Astana and its FlyArystan low-cost unit are enjoying very strong domestic demand. In addition, pandemic-related limits on frequencies – and not passengers – have pushed the airline to up-gauge on regional routes.
As for Air Astana's Airbus A320 family fleet, Foster says it is flying a full schedule and that "utilisation is very high."
Cirium fleets data shows that Air Astana has 17 A320 and A320neo family aircraft in service, while FlyArystan operates nine A320s and one A320neo.
Foster had particularly high marks for the A321LR, of which the airline received its sixth on 26 August. He notes that it carries the same payload as the carrier's former 757-200s, but at half the fuel burn.
Longer term, Air Astana has letters of intent for 30 737 Max 8s, but Foster declines to comment on the outlook for these to become firm orders.
Also, the 767s are likely to be replaced by 787-8s, of which the carrier has orders for three examples, in the 2025-26 timeframe.
Foster adds that the fleet's Embraer E190-E2 fleet largely returned to service in July after being grounded since December for "technical reasons." Air Astana has five E190-E2s in its inventory.
Air Astana filed a lawsuit against the Brazilian manufacturer on 2 July in New York, alleging a number of deficiencies with the design and operation of the regional jets, which it contends compromised safety. It lists a number of in-flight systems failures crews had to contend with while operating the type, and is seeking nearly $12 million in damages.
Foster declined to comment about ongoing litigation. He says, however, that "the aircraft have been flying since July after procedural and operational changes were implemented as demanded by Air Astana and mandated by [Brazil's National Civil Aviation Agency] ANAC."