Air Greenland has tentatively agreed to take a single Airbus A330-800 to replace the carrier's ageing A330-200.
The 305-seat aircraft – currently the subject of a memorandum of understanding, according to Airbus – is set to be delivered in 2021.
It will mark a powerplant switch for the airline, because its 22-year old A330 is fitted with Pratt & Whitney PW4000 engines while the A330-800 will have Rolls-Royce Trent 7000s.
Air Greenland will use the aircraft to serve not only its trunk route between Copenhagen and the capital Nuuk, but also the new airport at Ilulissat from 2023.
"The acquisition is Air Greenland's largest investment ever and shall ensure that the airline is competitive in the future," says the carrier.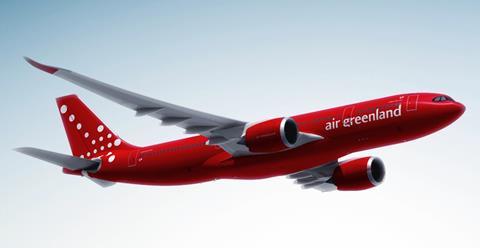 Chairman Kjeld Zacho Jorgensen says the development will "unlock Greenland in a whole new way" by increasing tourism.
The fleet modernisation follows the divestment of Scandinavian carrier SAS's shareholding in the airline last year, while placed the ownership entirely with the Greenlandic government.
Greenland premier Kim Kielsen says the investment decision by the carrier is "extremely positive".
Airbus has seen only mild interest in the A330-800, with the larger -900 by far the more popular A330neo variant, but has been hoping to capitalise on a replacement wave for older A330-200s.
Air Greenland's commercial air transport fleet also includes regional Bombardier Dash 8 turboprops.
It has just taken delivery of the first of two Airbus Helicopters H225s which are being configured for search and rescue work. The carrier operates a number of helicopter types including H125s and Sikorsky S-61s.