Canadian leisure airline Air Transat now expects delayed delivery of three Airbus A321LRs as chief executive Annick Guerard said "the industry supply chain is experiencing sporadic difficulty".
Speaking during parent company Transat AT's fiscal first-quarter earnings call on 9 March, Guerard says the aircraft had been due for delivery this spring but are now expected at the end of summer 2023.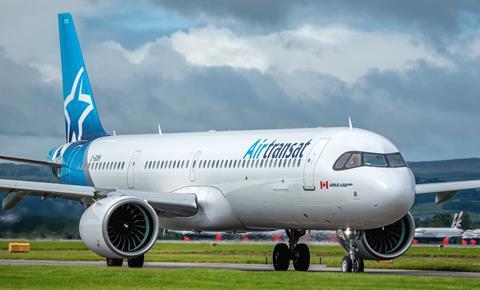 The trio of new A321LRs will bring Air Transat's fleet of the type to 15 aircraft. It expects a further two A321LRs to be delivered in 2024.
In addition to the three delayed aircraft deliveries, one of Air Transat's A321LRs is currently out of service after being damaged on the ground in Vancouver, "so we don't have access to that aircraft", Guerard says.
"The aviation and travel sectors have not fully recovered," Guerard says. "For example, some of our aircraft are delivered late, requiring the implementation of short-term aircraft leasing transactions".
As a result, the airline will operate three A321ceos and one Boeing 737 through aircraft, crew, maintenance and insurance (ACMI) leasing agreements until the end of winter in the northern hemisphere.
"This winter, we are operating 34 aircraft, compared to 55 in 2019, which represents a reduction in physical capacity of 27%," Guerard says.
During the northern hemisphere's summer travel season 2023, Air Transat will operate two A330s and two 737 Max through ACMI agreements, Guerard says.
"These contracts allow us to maintain the flight programmes that we have announced because we already have booking orders coming in on those routes," Guerard says.
Air Transat also has long-term lease orders for four new A321XLRs, the first of which is expected to be delivered at the end of 2025. The long-range aircraft will allow the airline to step up the frequency of its transatlantic flights.
Still developing the A321XLR, Airbus has pushed back service entry to 2024 after originally planning for initial deliveries to begin this year.