Delta Air Lines has hired Airbus Services to retrofit and upgrade nine Airbus A350 aircraft that previously flew for LATAM Airlines Group.
Airbus said on 23 January that the work will include a "nose-to-tail cabin modification". That includes new seats, lavatories, galleys and overhead bins. Airbus will provide the kits required and technical support through the upgrades.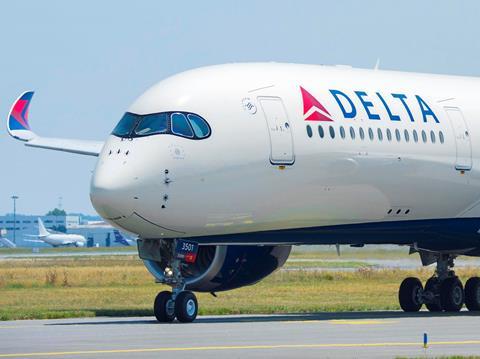 "This partnership with Airbus Services will ensure the A350 cabins are harmonised with the rest of our international fleet," says Kristen Bojko, vice-president of fleet at Delta. "The A350 is a critical part of Delta's network and this retrofit allows us to continue delivering the premium experience that our customers value."
LATAM said last year that it was divesting 13 A350s as part of its restructuring process. The carrier voluntarily filed for Chapter 11 bankruptcy protection in mid-2020 as the Covid-19 pandemic battered the Santiago-based airline.
Delta currently operates 28 A350 widebody aircraft with another six on order with the Toulouse-based manufacturer. The carrier also operates 62 A330s, with 18 of those on order, Airbus says.
In September 2019, Delta announced plans to acquire a 20%, $1.9 billion stake in the Latin American carrier. At that time, LATAM said it would leave the American Airlines-dominated Oneworld alliance, of which it had been a member for 20 years. The deal came after a Chilean court had blocked a potential joint venture between LATAM and Fort Worth-based American.
Delta and LATAM said later that year that they would begin sharing codes on flights operated by certain LATAM affiliates in Colombia, Ecuador and Peru in the first quarter of 2020. They signed a joint venture agreement in May 2020 and regulatory authorities in Colombia, Brazil and Uruguay subsequently approved the proposal, with Chile following in October 2021.
The US Department of Transportation (DOT) approved the venture in September 2022. In November, the carriers revealed a host of new routes under the deal, adding 23,000 seats weekly between North and Latin America.
Updates on 24 January to show that the aircraft were previously flown for LATAM Airlines Group, but not directly acquired from that airline.