Alaska Airlines is to accelerate its fleet renewal plan in order to be operating only Boeing 737 narrowbodies and Embraer 175 regional jets by the end of 2023, while also converting a pair of its 737-800 passenger aircraft into freighters.
The Oneworld carrier has disclosed the move as part of a wider update it is giving at an investor day.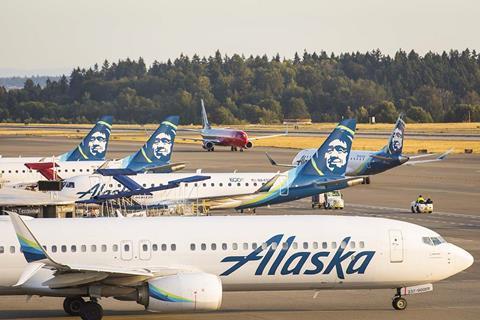 "Today, the company will share plans to accelerate the transition of its fleet of 300-plus aircraft to all-Boeing 737 for its mainline operations and all-Embraer E175 jets for regional, by the end of 2023," the company says, noting the move will drive "significant" economic benefits.
"As the fleet grows to 400 aircraft by mid-decade, these will manifest through operational simplicity, flexibility and scalability, better fuel efficiency and reduced maintenance costs," it says.
Alaska Airlines has been taking steps to align its narrowbody fleet around around Boeing 737s, having added 737 Max commitments and dropped an order for 30 Airbus A320neos it inherited from its acquisition of Virgin America.
The bulk of Alaska's narrowbody fleet comprises 737-700/800/900s; Cirium fleets data shows it has a combined 163 examples in service, alongside 40 A320-family aircraft, plus a further 21 of the Airbus type in storage. Alaska also operates 16 Max 9s, and has orders for another 81 Max aircraft.
Regional unit Horizon Air operates a mixed fleet of Embraer 175s and De Havilland Canada Dash 8-400 turboprops.
Alaska Airlines also operates three 737-700 freighters and has today disclosed plans convert two of its 737-800s to a cago configuration, with service entry pegged for next year.
Alaska Air Cargo managing director Adam Drouhard says: "Fleet expansion positions our growing cargo business to meet increased demand that we see from industry and consumers. The -800 aircraft provides more load space than our current -700 freighters, essentially doubling [our] total freighter lift capacity."