US discount airline Allegiant Air is near to finalising an order for 50 Boeing 737 Max, according to a 4 January report from Reuters.
Neither Boeing nor Allegiant have confirmed the report, which cites unnamed sources familiar with the matter.
Reuters says Allegiant intends to go with the Max 7 after an acquisition contest that included its evaluation of Airbus' competing A220.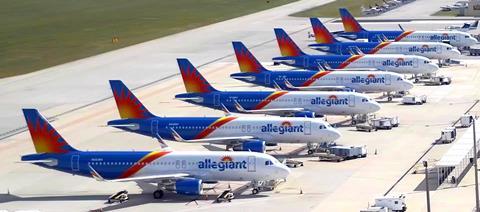 The move would mark a major shift in fleet strategy by Allegiant, which now operates only Airbus A320-family narrowbodies.
It would also be a crucial win for Boeing, which is seeking to build momentum for its 737 Max. Boeing recently lost out on two major narrowbody deals from longtime customers KLM and Qantas. Those airlines, both 737 operators, said in December 2021 that they will acquire A320neo-family jets.
Allegiant did not respond to a request to comment about Reuter's report. Boeing declines to comment.
In the last decade, Las Vegas-based Allegiant aligned itself entirely with Airbus, acquiring A320-family narrowbodies as it expanded and retired its fleet of ageing McDonnell Douglas MD-80-family jets. Also last decade Allegiant operated 757s.
The airline's stategy has also been, primarily, to acquired used aircraft, helping keep acquisition costs minimal. Recently, however, the airline has purchased new A320s.
Allegiant's fleet now includes 123 Airbus jets, among them A319s and A320s, according to Cirium fleet data. Those aircraft between 5 and 34 years old. Allegiant owns the majority of the jets.
Boeing's 737 Max 7 remains in the certification process, with the company anticipating it will deliver the first Max 7 this year.