Irish airline group ASL Aviation Holdings has ordered another 10 737-800 Boeing Converted Freighters (BCFs), bringing to 21 the number of those jets it intends to acquire.
The orders are conversions of previously held options. ASL, based near Dublin, took those options alongside a firm order for 10 737-800BCFs that it placed at the Paris air show in 2019.
The company subsequently committed to receiving one other 737-800BCF, bringing to 21 its total commitments for the modified freighter, it says.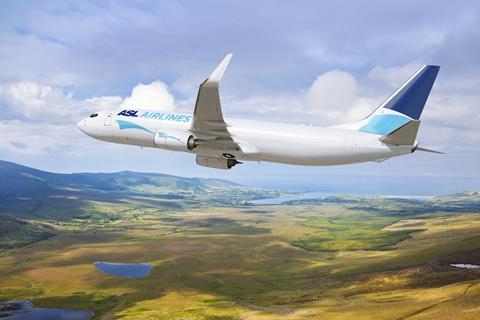 Deliveries of the 737s to ASL will run "up to 2023", ASL tells FlightGlobal.
With the deal, Boeing holds orders and order commitments to sell more than 150 737-800BCFs, the airframer says.
ASL received its first 737-800BCF in January, placing that jet into service with subsidiary ASL Airlines France. It expects this month to receive a second 737-800BCF, which will be operated by K-Mile Asia, a Bangkok airport-based carrier co-owned by ASL.
An additional four ASL-bound 737-800BCFs are now undergoing passenger-to-freighter conversions, and modification of another two jets are scheduled to begin "in the coming weeks", the company says.
"The aircraft offers an excellent option for our express-cargo customers, as they develop their networks to meet demand in the years ahead," ASL chief executive Dave Andrew says. "It is right-sized in payload and range."
The order "is part of an ASL programme to right-size aircraft for the developing market and for growth", and also for replacing existing aircraft, the airline company adds. "We are a neutral service provider and we aim to have the assets to meet the requirements of our customers."
ASL holds interest in several passenger and cargo airlines that operate scheduled and charter flights. Affiliated carriers include ASL Airlines (with divisions in Ireland, Belgium, France and Hungary), K-Mile and South Africa's FlySafair. Its subsidiaries operate some 140 aircraft.
The company intends to deploy "most" of its 737-800BCFs "to our European airlines – ASL Airlines Ireland, ASL Airlines Belgium and ASL Airlines France", it says.
ASL also owns aerospace leasing and maintenance companies.
Boeing launched the 737-800 conversion programme in 2016 with orders and commitments to sell 55 of the jets. Boeing modifies the aircraft to have main-deck cargo doors, cargo-handling systems and capacity to carry 12 pallets, including 11 standard pallets and one half pallet.
The 737-800BCF can carry 23.9t of cargo and has 2,025nm (3,750km) range, says ASL.
Story updated on 16 February to include comments from ASL.