Austrian Airlines intends to make further cutbacks to its active fleet and headcount, and has warned that it will miss the earnings targets it outlined last year.
The Lufthansa subsidiary says it will place a further two Airbus aircraft into long-term storage, reducing its fleet to just 58 jets until "at least" 2024-25, down from a pre-crisis level of around 80.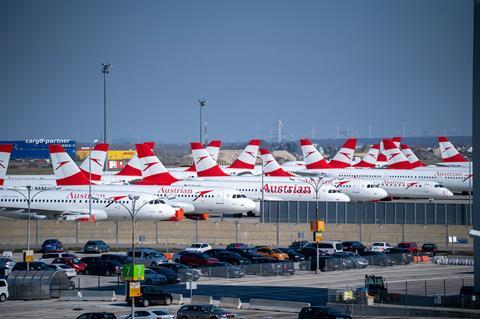 Staff numbers will be reduced by 650 full-time positions by the end of 2023, on top of the 650 job cuts in the period to the start of March this year. Austrian notes this action "will not be achievable in all areas by means of natural attrition", and is therefore exploring ways of using part-time work patterns to "reduce personnel capacity."
"Austrian Airlines will be completely different after the crisis," states chief executive Alexis von Hoensbroech. "The company will be leaner, more digitalised and more modern, and reconnect Austria with the world with its long-haul hub".
The action is necessary because the Covid-19 crisis "is lasting significantly longer than expected, and the effects will be felt for several years", he adds. "That is why we will not be able to achieve the earnings targets, which we defined last spring."
The measures come on top of the carrier's moves to divest from smaller types of aircraft, such as the De Havilland Dash 8 turboprops and Airbus A319 narrowbodies.
It has also centralised flight traffic in Vienna and terminated all crew and technical bases in the Austrian provinces, along with several passenger handling stations, while reducing its head office floorspace 50%.
Austrian hopes the measures will help it pay back the financial assistance granted at the peak of the crisis last year.
"We are aware of our responsibility to the Austrian population and want to repay our debt as quickly as possible as soon as a market recovery sets in," states von Hoensbroech.
The airline says its liquidity position remains solid, and expects a snapback in demand as restrictions are eased into the summer. "New bookings for the peak season are being registered every day, for example, lately a 50% increase in new bookings for June through August in the last two weeks, compared to bookings in January for the same period."
Earlier this month, Austrian reported a 2020 operating loss of €379 million ($450 million) as revenues slumped by 78% to €460 million.