Brazilian discount airline Azul will remove 12 Embraer 195s from its fleet of passenger aircraft before the end of 2022, moving to sell some of the jets and convert others to freighters.
Azul says the change allows "significant acceleration in its fleet transformation plan", letting it move forward planned deliveries of new E195-E2s.
The carrier disclosed the change on 20 September. It now plans by year-end to have 37 passenger-configured E195s, down from 45 at mid-year.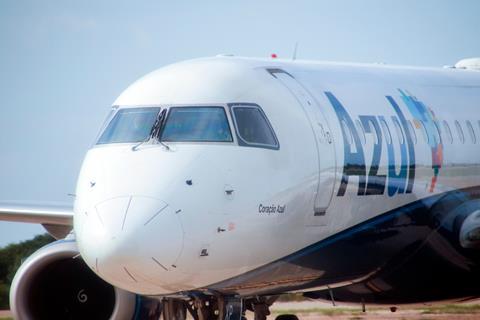 The 12 aircraft scheduled for removal include five that Azul plans to sell to Fort Lauderdale-based aircraft lessor Azorra and three it will convert into air freighters, Azul says.
It is removing another four leased E195s because those lease agreements are ending, the airline adds.
"The exit of the [E195s] gives us the opportunity to advance the delivery of [the] next-generation E2, further expanding our margins," says Azul chief financial officer Alex Malfitani. The second-generation E-Jets cost 26% less per seat to operate than the first-generate type, Malfitani adds.
Azul has eight E195-E2s in service and outstanding orders with Embraer for another 59, according to Cirium data.