US discounter Breeze Airways has received its first Airbus A220, taking a -300 variant from Irish aircraft lessor AerCap.
The aircraft joins a Breeze fleet comprised otherwise of only Embraer E-Jets, including E190s and E195s.
Breeze's first A220 is also first among 14 A220s that AerCap and an affiliate intend to supply the start-up carrier, which launched flights in May.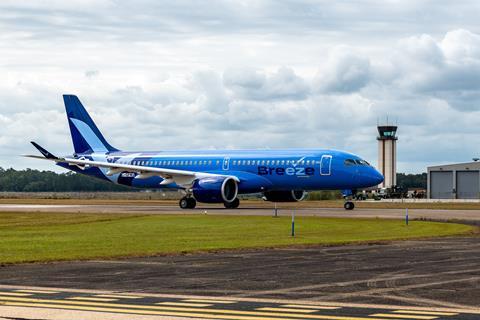 Led by David Neeleman, Breeze primarily flies routes in the eastern USA that lack other direct air service.
Of the 14 aircraft, Breeze will acquire 11 (including the first two) from AerCap under "sale-and-leaseback" arrangements, which typically involve an airline selling a jet to a lessor, then leasing it back.
Breeze will acquire the other four A220s from Einn Volant Aircraft Leasing, a "leasing platform" formed by AerCap and Caisse de depot et placement du Quebec, a Canadian pension and insurance investment manager.
AerCap expects to deliver a second A220 to Breeze before year-end. The carrier will receive the remaining 12 aircraft in 2022 and 2023, AerCap says.
"The AerCap financing structure further enhances the operating economics of our A220 aircraft while allowing us to optimise our balance sheet," says Breeze chief executive Neeleman.
Breeze operates 13 E-Jets and holds orders for another 79 A220-300s, according to Cirium fleets data.
On 1 December, Neeleman said Breeze expects to begin A220 revenue flights in the first or second quarter of 2022. The airline's A220s will have 126 seats, including 36 "premium seats" (which the airline has described as similar to other carriers' first-class seats), 10 extra-legroom economy seats and 80 standard economy seats, Breeze has said.