WestJet's ultra-low-cost subsidiary Swoop will add six Boeing 737 Max 8 aircraft to its fleet as the discount segment in Canada heats up with two new competitors due to launch in the coming months.
The Calgary-based carrier says on 9 February it will take delivery of the aircraft "this summer" ahead of the peak holiday travel season, allowing it to expand its domestic flight network to 37 non-stop routes from 23.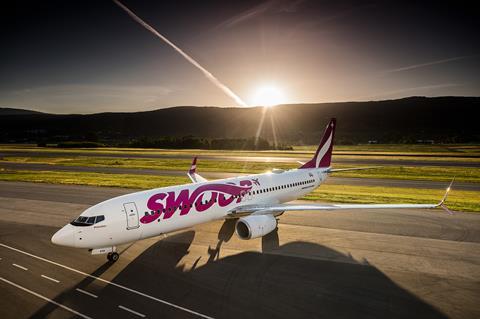 "We saw demand for travel return in a very meaningful way over the holidays, signalling that Canadians are ready to reunite with family and friends," says Bert van der Stege, head of commercial & finance at Swoop. "The acquisition of six new aircraft in response to anticipated demand will ensure Swoop reconnects more Canadians this summer while accelerating Canada's economic recovery."
Swoop currently operates a fleet of ten Boeing 737-800 aircraft.
The new domestic routes,which skew heavily towards Atlantic Canada, will launch between 1 May and 22 June. Swoop will fly to Deer Lake and St. John's, Newfoundland, and Saint John, New Brunswick for the first time as part of that expansion.
Altogether, the airline serves 31 cities in Canada, the USA, Mexico and the Caribbean.
"Throughout the pandemic the ULCC model has proven especially resilient, with Swoop carrying around one million travellers in 2021," the company says. "Despite ongoing travel restrictions Swoop saw strong demand for both domestic and international travel over the peak holiday period, a trend that has continued into the new year."
The western Canadian airline's growth comes as two new carriers – Lynx Air and Canada Jetlines – prepare to shake up the low-cost market in Canada, and incumbent Flair Airlines is also looking to expand aggressively.
Calgary-based Lynx is targeting April for its first revenue flights, initially across a network of five cities in western Canada, and has begun selling tickets. It will launch operations with three 737 Max 8 aircraft and plans to grow to 46 jets in seven years.
Jetlines, which is headquartered in Toronto and has had numerous false starts over the years, says on its website that it is "getting ready to serve the flying public in early 2022". Its business plan outlines a strategy which includes flights from Toronto to Canadian destinations, Mexico, the USA and the Caribbean in 2022, then expanding to offer direct flights to the Caribbean from Atlantic Canada in 2023, and entering the western Canada leisure market in 2024.
Edmonton-based Flair Airlines, which launched in 2017, said in December that it aims to double the size of its fleet over the next two years with the addition of 14 737 Max 8 jets. It currently flies to more than 30 destinations in Canada, the USA, and Mexico. Its fleet includes 12 737s, nine of which are newer Max 8s, and it hopes to have 20 aircraft by the middle of this year, and 50 by 2025.