China Southern Airlines has commenced operations of its Comac ARJ21 regional aircraft, operating a domestic flight from its Guangzhou Baiyun hub to Jieyang.
The carrier will initially operate the regional jets out of Guangzhou, but will eventually deploy them at its Beijing Daxing hub. It did not state which other routes it will operate the aircraft on.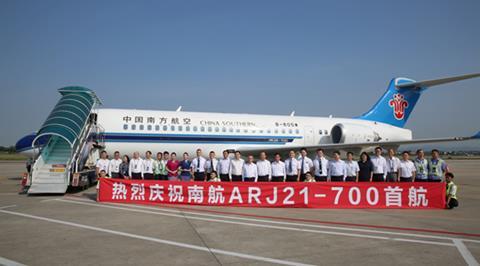 The carrier says that at the onset, the aircraft will play a pivotal role in building up regional air traffic in the Greater Bay Area of Guangdong, Hong Kong and Macau.
It adds that the aircraft's future deployment in Beijing Daxing will help build up the carrier's Guangzhou-Beijing "dual hub strategy".
China Southern has 34 more ARJ21s on order, with all examples to be delivered by 2024. Its ARJ21-700 is configured in an all-economy 90-seat, five abreast configuration.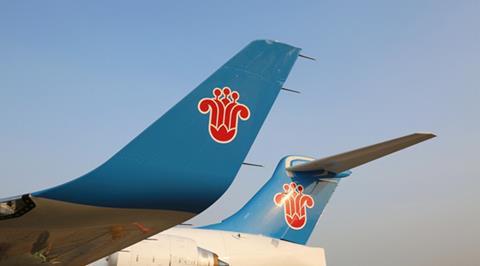 China Southern is the second of the three largest state-owned carriers to begin ARJ21 operations, after Air China completed its maiden service on 10 July. China Southern, Air China, as well as compatriot China Eastern Airlines all took delivery of their first ARJ21s on 28 June.
The three state-owned carriers placed orders for the regional jet last August, each ordering 35 examples, with each deal worth about $1.33 billion. To date, Comac has delivered more than 30 examples, and has more than 300 orders, largely from Chinese carriers.