China's three largest carriers continue to omit the Boeing 737 Max narrowbody from their near-term fleet plans, casting a pall over Boeing's plans to return the type to Mainland service.
In their half-year results, the 'Big Three' – comprising Air China, China Eastern Airlines and China Southern Airlines – do not mention new 737 Max aircraft in their delivery plans until the end of next year.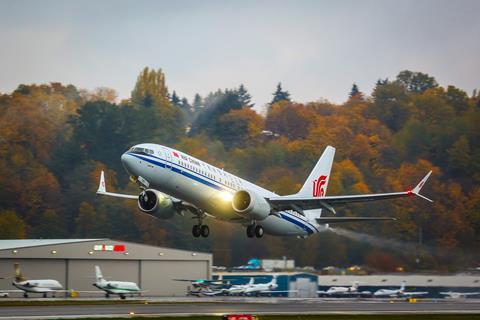 While the Civil Aviation Administration of China effectively lifted the Max's grounding in December 2021, Chinese carriers have yet to return the type to service. The fate of over 200 aircraft on order also hangs in the balance, further muddled by ongoing geopolitical tensions between China and the USA.
China Eastern in its outlook explicitly states the 737 Max 8 "is grounded" and "the delivery plan…has not been included for future planning".
Conversely, both Air China and China Eastern Airlines, which detailed their fleet outlook, are looking to take a significant number of Airbus narrowbodies from the rest of the year through 2024. This follows the headline orders placed by the three operators in July for close to 300 narrowbodies.
China Eastern, for instance, will take delivery of 19 A320neo family aircraft for the rest of this year, followed by 16 next year and 28 in 2024. Air China expects to receive five Airbus narrowbodies in 2023, ramping up to 31 examples in 2024.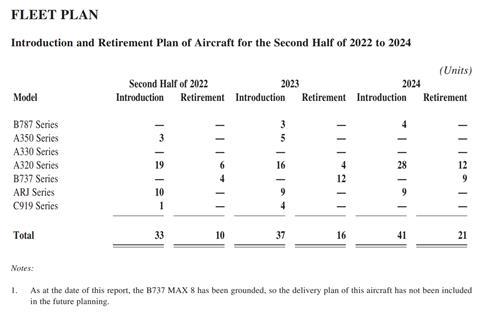 China Southern did not disclose delivery schedules for its new aircraft.
Air China and China Eastern will also continue taking delivery of aircraft from Chinese airframer Comac, including the highly-anticipated first C919 narrowbody aircraft.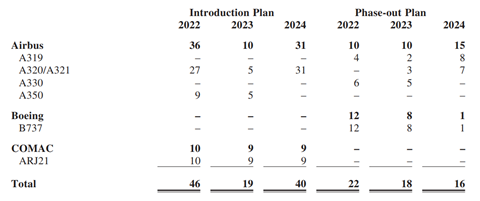 China Eastern forecasts delivery of its first C919 in the second half of the year, with the four remaining jets to be delivered in 2023. The Shanghai-based carrier is the launch operator of the type, which was beset by delays amid the pandemic and geopolitical tensions.
Deliveries of the ARJ21 regional aircraft, which the 'Big Three' are operators of, will continue through 2024.
However, it appears deliveries of the type were slowed down or paused in the first half of the year, as China battled its worst-ever spike in coronavirus infections. In China Eastern's fleet plans for the 2022 full year, the airline expected to take 10 ARJ21s this year. However, in its latest plans, the figure is unchanged – indicating a possible production pause.