US regional carrier CommuteAir plans on making a "significant new fleet investment" by updating the avionics in its ageing Embraer ERJ-145s with technology developed by Honeywell Aerospace.
The airline plans to begin installing an upgraded Honeywell Flight Management System (FMS) in March, aiming to boost the operational efficiency and safety of its 62-aircraft fleet, CommuteAir said on 3 January.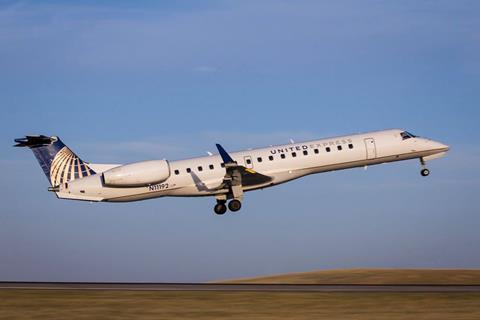 "Our upgraded FMS will provide additional instrument approaches at dozens of airports that were not available in prior versions, optimizing flight approach procedures and further [strengthening] both safety and reliability," says David Fitzgerald, CommuteAir's vice-president of flight operations.
With headquarters in Cleveland, CommuteAir is the sole operator of the 50-seat ERJ-145 within the United Express network. The upgraded FMS is part of the airline's fleet enhancement campaign that began in 2021 and has included the refurbishment of 44 aircraft cabins with new side walls, overhead bins, bulkhead finishes, LED cabin and reading lights, and a redesigned lavatory.
CommuteAir plans to complete the interior refurbishment of all 62 ERJ-145s it operates on behalf of United by the end of 2023. The entirety of CommuteAir's fleet is approaching or exceeding 20 years old, according to Cirium fleets data.
The airline has operational hubs in Denver, Houston, and Washington, DC, and operates up to 1,500 weekly flights throughout the USA.