Delta Air Lines became the latest Airbus A321neo operator on 20 May when Delta flight 1202 departed Boston Logan airport, bound for San Francisco International.
The milestone marked the latest expansion and modernisation phase for the Atlanta-based carrier.
Delta is outfitting its A321neos with new first-class seats and advanced in-flight entertainment (IFE) systems, and may deploy the jets on transatlantic flights.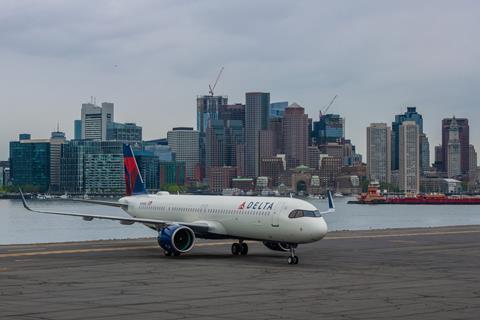 Delta acquired its first A321neo (registration N501DA) – the jet operating the Boston-San Francisco flight – in March.
It has outstanding orders for another 154 of the type. Delta expects to have 26 in its fleet by year-end, with the rest scheduled for delivery through 2027. The jets will have Pratt & Whitney PW1100G geared turbofans.
Delta will initially deploy A321neos from its growing hub in Boston. In addition to San Francisco, Delta will begin flying A321neos this summer from Boston to Denver, San Diego and Seattle, it says. The Denver and San Diego routes are new to Delta's network.
Those routes are part of broader expansion at Boston by Delta, which this summer plans to operate about 155 flights daily from the city, the carrier says. That is up from about 125 daily flights from Boston in pre-pandemic 2019, according to Cirium data.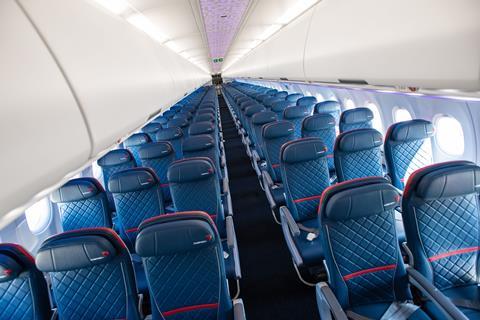 Eventually, Delta intends to deploy A321neos on extended over-water flights, including those from the mainland USA to Hawaii, and "likely over to Europe in the future", Sarah Mishler, fleet engineer with Delta maintenance division Delta Tech Ops, says in a promotional video.
"This is the next generation of Delta's aircraft that we are going to be seeing for the next 30 years," she adds.
The A321neos have 2,928nm (5,423km) of range, compared to 2,229nm for Delta's first-generation A320s, according to the airline's website.
Delta is outfitting its A321neos with 194 seats, including 20 in first class, 42 premium-economy and 132 economy seats.
First-class seats in Delta's A321neos have "larger and sturdier" tray tables that provide 25% more work space than those in Delta's A321ceos, says the airline. Those seats also provide passengers three times more storage space and have "fixed headrests" that wrap around the top of the seat, provided "increased privacy".
Delta developed the first-class seats in partnership with German seat manufacturer Recaro and UK design firm Factorydesign, it says.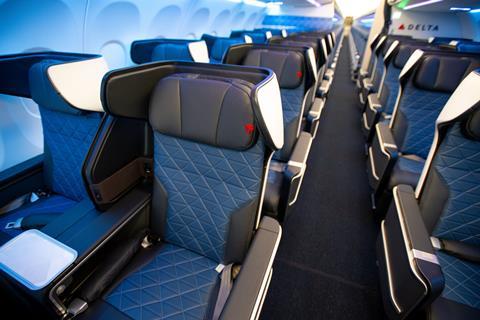 Additionally, all seats on Delta's A321neos have "memory-foam seat cushions" and power ports, and Delta has loaded its A321neo IFE systems with 50% more content, it says. Customers can connect their devices to the jets' IFE system via Bluetooth.
Delta already operates a massive Airbus narrowbody fleet that includes 237 first-generation A320-family jets, among them 54 A319s, 56 A320s and 127 A321s, Cirium data shows. Delta's other widebodies include 55 A220s, 63 Boeing 717s and 206 737NGs.