Delta Air Lines will add 29 used Boeing 737-900ERs and seven used Airbus A350-900s to its fleet as passenger demand returns following the more-than year-long global health pandemic.
The Atlanta-based airline says on 13 July that the aircraft will support its sustainability goals and fleet-renewal strategy, and provide a better customer experience.
The aircraft are expected to be delivered by the first quarter of 2022.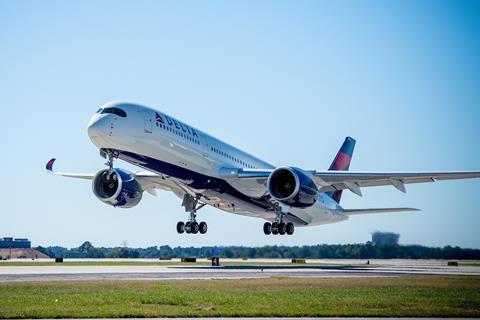 "These aircraft are an investment in Delta's future," says the airline's chief executive Ed Bastian. "As we look past the pandemic, Delta's disciplined, innovative approach to fleet renewal positions us for growth as travel demand returns, while enhancing the customer experience and supporting our sustainability commitments."
Delta retired its older and less efficient Boeing 777s, McDonnell-Douglas MD-88s and MD-90s last year after the coronavirus decimated the passenger air transport industry worldwide, prompting numerous carriers to accelerate a shift to more-modern and -efficient aircraft.
"The next-generation A350s burn 21% less fuel per seat than the 777s they replace," the airline says. "Improved fuel efficiency is paramount to Delta's ongoing efforts to reduce its carbon emissions."
Delta will lease the seven Airbus widebodies from AerCap. The lessor says the aircraft will be delivered in the third and fourth quarters of 2021. All are powered by Rolls-Royce Trent XWB-84 engines.
"This is a significant transaction for AerCap with one of the largest and most-successful airlines in the world," says Aengus Kelly, AerCap CEO.
Delta has 15 A350s already in service and another 20 on order with the Toulouse-based manufacturer.
The majority of the 737-900ERs will be purchased outright from funds managed by aircraft financier Castlelake, while two 737-900ERs will be financed through Castlelake, Delta says. Those aircraft will be delivered by the first quarter of 2022.
The incoming 737s will bring Delta's 737 fleet to 159 aircraft.
The airline is due to report second quarter earnings results on 14 July.