EasyJet Switzerland has begun a formal consultation process on cutting 70 jobs and two aircraft from its Basel operation.
That would see its fleet at the airport reduced to 10 aircraft from a pre-pandemic level of 12 jets, EasyJet states, with its workforce falling to around 385 employees.
"We are focused on doing what is right for the company and its long-term health and success so we can protect jobs going forward," states EasyJet Switzerland managing director Jean-Marc Thevenaz. "Unfortunately, the lower demand environment, forecast until 2023, means we need fewer aircraft and have less opportunity for work for our people."
The Swiss unit's Geneva operation – which features 15 aircraft and around 560 employees – is untouched by the new proposals.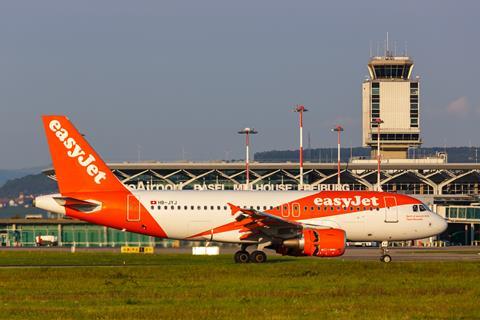 The proposed cuts follow EasyJet's group-wide announcement in late May that it would cut staff levels by up to 30% and reduce its all-Airbus fleet by 51 jets.
Thevenaz notes that from late summer, EasyJet Switzerland has faced fresh travel restrictions and quarantine requirements in many of its markets, "which has impacted consumer confidence to make travel plans due to the uncertainty".
He continues: "We are committed to working constructively with our employee representatives in Switzerland with the aim of minimising job losses as far as possible and provide transfer options within our local bases."
EasyJet Switzerland is the smallest of the group's three affiliates, accounting for 9% of its pre-pandemic fleet of approximately 320 aircraft. Around 165 of those jets were based with its UK unit, and the remainder operated by Vienna-based EasyJet Europe.
EasyJet holds a 49% stake in the Swiss operation, which uses the group's brand under a franchise agreement. The remaining 51% of the business is held by private investors.
Elsewhere in Switzerland, flag carrier Swiss recently announced that at least 1,000 jobs – around 10% of its workforce – could be at risk over the coming two years.