British Airways' decision not to resurrect its Boeing 747 fleet as part of its recovery programme signals an abrupt end to one of the most famous airline/aircraft associations in the jet age.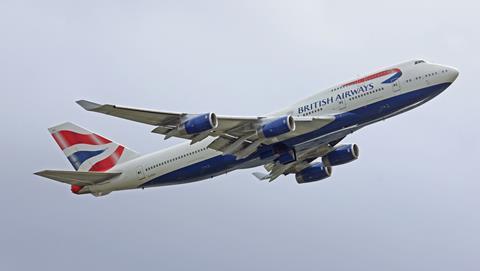 Cirium fleets data shows that BA and its predecessor BOAC ultimately operated 110 747s (including seven wet leases) across an era that spanned five decades. BOAC was an early adopter of the "jumbo jet" philosophy – placing an initial order for 12 aircraft (plus four options) in August 1966, just months after Boeing had launched the 747.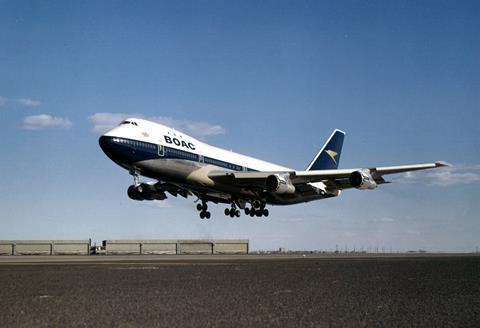 The airline was the sixth 747 customer to receive the aircraft, taking delivery of its first Pratt & Whitney JT9D-powered "747-136" G-AWNA On 22 April 1970. However, an industrial dispute kept the aircraft grounded for another 12 months, and the type did not make its service debut with a golden Speedbird on its tail until 14 April 1971. The original seating configuration comprised 319 seats in two classes 27 first and 292 economy seats, with an upstairs lounge.
British Airways - 747s operated by variant
Variant
Total

747-100

19

747-200B

18 (2)

747-200B Combi

6 (1)

747-200C

1 (1)

747-200F

2 (1)

747-200SF

1 (1)

747-400

57

747-400F

3 (1)

747-8F

3

Grand Total
110 (7)
Totals include wet-leases (shown in brackets).

Data for all BA divisions plus GSS
Source: Cirium fleets data
BOAC morphed into British Airways during the 747-100 delivery phase – indeed the airline's 14th -136 G-AWNN was the airline's first factory delivery in BA's red, white and blue livery designed by the Negus & Negus creative agency.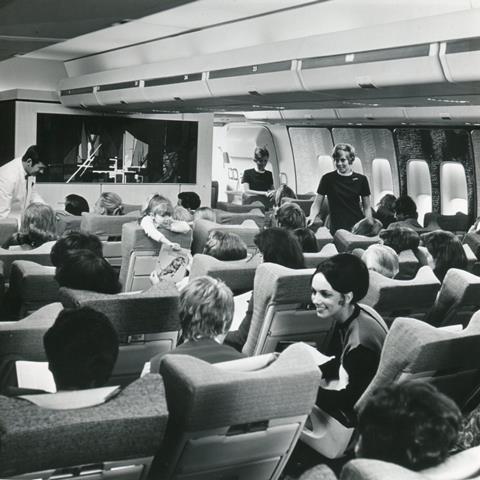 In June 1977 BA was the first airline to take delivery of the Rolls-Royce RB211-powered 747, when it receiving its initial -200B series. Several of these were delivered to BA as "-236M" combi variants, while one -236F all-cargo model was also operated for a brief period in 1980-81, appropriately registered "G-KILO".
During the 1980s, BA's 747 fleet was augmented with the addition of several -200s acquired through the merger with British Caledonian. The airline's leisure subsidiary, British Airtours also operated a 747-236 briefly in 1987.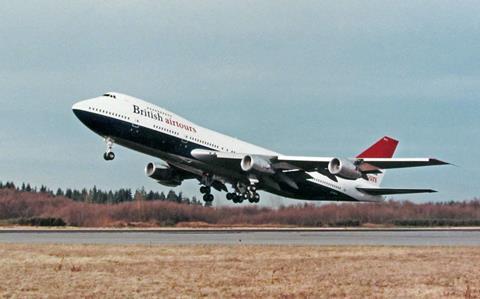 When Boeing launched a major 747 refresh as the -400 variant, BA was among the launch customers. It placed its initial order for 16 firm plus 12 options in August 1986 and again opted for Rolls-Royce power.
BA's first two 747-400s were delivered together to the airline's London Heathrow base in July 1989 (below). Ultimately, the airline took delivery of 57 new 747-400s although its full contract was renegotiated with Boeing in 1998 as part of a switch to smaller 777-200ERs, which saw its last batch of nine 747 orders cancelled.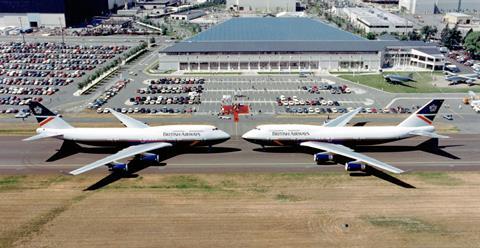 BA's 747 fleet grew steadily after the 747-400 was introduced, peaking at 75 aircraft in 1998, which was the year the airline retired its final -100s. In 1990, one of the original BOAC 747s had the notoriety of being caught up in the Iraqi invasion of Kuwait, and was subsequently destroyed after being seized on the ground.
BA 747 new deliveries
747-100
18
747-200B
15
747-200B Combi
3
747-200F
1
747-400
57
Total
94
Source: Cirium fleets data
The airline's 94th and final new 747 delivery - G-BYGG - was made in April 1999. Cirium fleets data shows that BA's 747 inventory remained above 70 aircraft through to 2001, before declining abruptly when the airline accelerated the retirement of the -200 series in the wake of 9/11 terrorist attacks.
BA's cargo division added three 747-400Fs through a wetlease deal with Global Supply Systems (GSS) between 2002 and 2011. These were replaced briefly by new-generation 747-8Fs in 2011-2013, before BA opted out of dedicated maindeck cargo operations.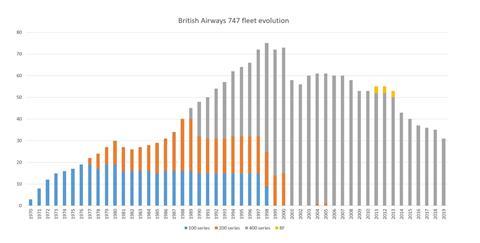 The 747-400 passenger fleet steadied at 57 aircraft from 2003 to 2007 as the airline established itself as the largest operator of the passenger model. It kept the faith throughout the 2010s as many other 747 operators fell by the wayside.
Although the airline began to wind down its -400 passenger fleet from 2008, right up until the coronavirus pandemic it had been intending to retain the jumbo until 2024. The intention was that big jet would ultimately be replaced by a mix of new generation widebodies, including the Airbus A350, Boeing 787 and 777-9.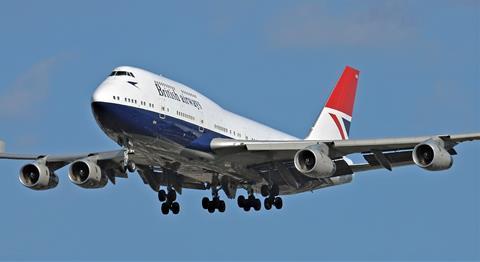 Cirium data shows that BA started its centenary year in 2019 with 35 active 747s, and the type would be central to its anniversary celebrations - three of the fleet were repainted in iconic schemes from the airline's past – BOAC, Negus & Negus and the 1980-90s era Landor livery. A highlight of the celebrations was a formation flypast of the BOAC-liveried -400 with the Red Arrows at the Royal International Air Tattoo in July (below).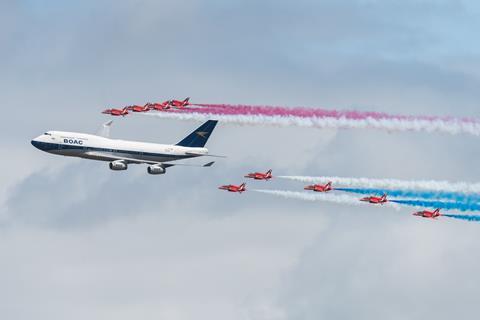 At the time of the mass fleet groundings in March in the wake of the coronavirus crisis, Cirium shows that BA had 31 747s in operation. With the entire fleet effectively grounded since late March, the airline is believed to have operated its last 747 passenger service on 4 June, between Cape Town and London.
"This is not how we wanted or expected to have to say goodbye to our incredible fleet of 747 aircraft. It is a heart-breaking decision to have to make," says British Airways chairman and chief executive Alex Cruz.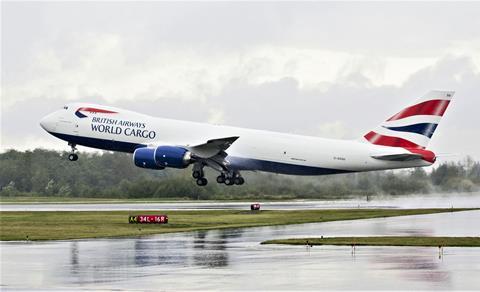 "We have committed to making our fleet more environmentally friendly as we look to reduce the size of our business to reflect the impact of the Covid-19 pandemic on aviation. As painful as it is, this [immediate retirement] is the most logical thing for us to propose."
Just prior to the grounding, Lufthansa was the second largest operator of passenger 747s after BA, with Cirium showing it had 30 in service (12 -400s and 18 -8s). The future shape and size of the jumbo fleet is unclear, but the baton will now pass to Lufthansa to ensure the jumbo is kept flying on passenger services.