Fiji Airways will return its Boeing 737 Max aircraft to regular commercial services from 1 December, flying to Australia, New Zealand and Hawaii, as part of a broader resumption of regular flying.
The announcement comes as Fiji begins to reopen to fully-vaccinated international travellers, after shutting its borders for more than 20 months since the coronavirus outbreak first started.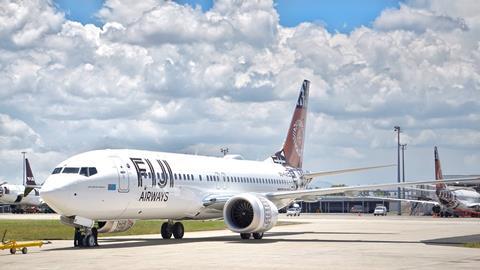 Disclosing its December schedule, Fiji Airways says the 737 Max will operate flights from capital Nadi to Honolulu, and will be scheduled to fly to Sydney, Auckland, Christchurch and Wellington alongside Airbus A350 and A330 aircraft.
Fiji lifted an operational ban on the 737 Max in April, following Australia in February and New Zealand in June. The type was grounded globally in 2019 following two fatal crashes which killed 346 people.
According to Cirium fleets data, Fiji Airways has a fleet of five 737 Max 8s, of which four are currently in storage.
Fiji Airways could also be the first Asia-Pacific carrier to return the 737 Max to regular service. Indian low-cost carrier SpiceJet, which operates a sizeable 737 Max 8 fleet, was set to return the type to domestic operations from 5 October after authorities in India lifted the grounding.
However, plans were scuttled at the eleventh hour, reportedly over airport parking charges. It has not disclosed a new date to return the 737 Max to service.
FIJI OPENS FOR INTERNATIONAL TOURISM
From 1 December, Fiji Airways is also set to resume flights to Los Angeles and San Francisco on the US West Coast, operated by its A350s and A330s respectively.
In Asia, the carrier expects to resume flights to Hong Kong, Singapore, as well as Tokyo Narita, all operated by A330 aircraft.
"Fiji Airways will adjust its planned schedules accordingly if certain states or destinations remain closed for international travel on 1 December," the carrier states.
The Fijian government will only allow fully-vaccinated travellers to enter the country. Travellers must take a coronavirus test within 72 hours before departing, and must complete an additional test upon arrival at their pre-booked hotel.