The world's first GE Aviation-powered Boeing 777 made what is expected to be its final flight today when it was ferried from London Heathrow into retirement by British Airways.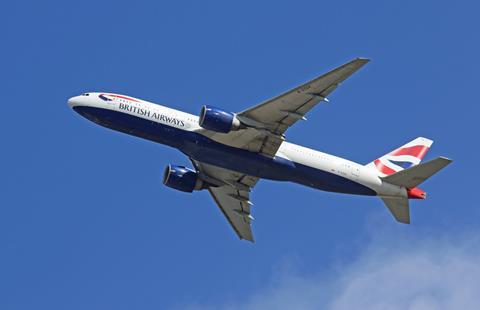 The aircraft (MSN27105, G-ZZZA) was the sixth 777-200 built and the first powered by GE90 engines. It made its first flight on 2 February 1995 registered N77779 (below) and, along with the second GE-powered aircraft (G-ZZZB), participated in the airframe/engine flight-test programme for this version of the 777.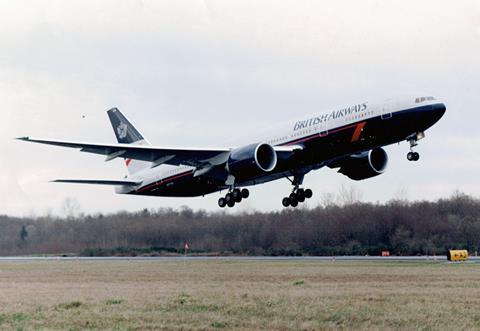 BA was launch customer for the GE-powered 777 in August 1991, selecting the US engine over the rival Trent 800 from UK manufacturer Rolls-Royce, and the Pratt & Whitney PW4000. At the time, the selection of GE power was a surprise but was part of a wider deal which included the sale of BA's engine overhaul plant.
After testing, G-ZZZA was delivered to BA on 20 May 1996, six months after the airline received its first 777 (G-ZZZC) the previous November. According to Cirium fleets data, prior to today's retirement flight, the airframe had accumulated 100,254 flight hours and 20,557 cycles.
The positioning flight was to BA's St Athan storage and maintenance facility in South Wales. It is one of five of the original "A" market 777-200s delivered to BA prior to the introduction of the higher-weight and longer-range 777-200ER series.
Like many of BA's aircraft, G-ZZZA has been in storage at the airline's Heathrow base since March this year in the wake of the coronavirus crisis.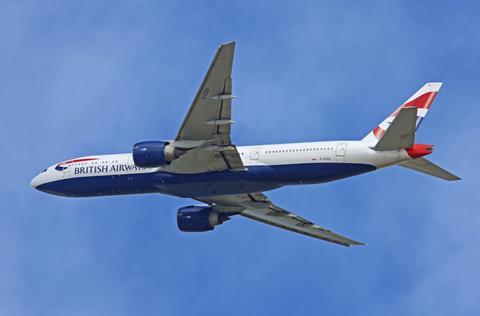 Although Boeing offered a three-way engine choice on the original 777 family, it concluded an exclusive tie-up with GE for the GE90-115B when it launched the -200LR/300ER in February 2000. This arrangement continued on the -200LR-based 777F and exclusivity was extended to the updated 777X, which is powered by the GE9X.
Cirium fleets data shows that to date, Boeing has delivered 1,239 GE-powered 777s and holds a firm backlog for over 350 more, including 62 -200LR/300ER/777Fs.