Hawaiian Airlines will delay deliveries of its long-awaited Boeing 787 Dreamliners by at least one year as it contends with a difficult business environment perpetrated by the ongoing coronavirus pandemic.
According to Cirium fleets data, the Honolulu-based carrier has 10 787s on order and another 10 on option, and had planned to begin operating them in revenue service in early 2021.
Now, chief executive Peter Ingram says, service entry has been delayed by at least one year.
"We don't expect to put the first two 787s into service until 2022 or 2023," Ingram says on the airline's quarterly earnings call on 28 July. He adds that the airline is in "productive" talks with Boeing to reschedule the deliveries.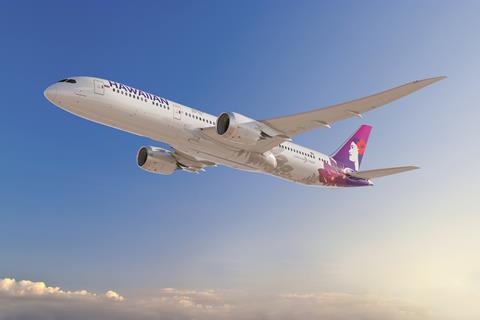 Not only are quarantine requirements in its home state of Hawaii hindering progress to restore services, travel restrictions still in place in its Asia-Pacific destinations like Korea, Japan and Australia are making planning for the future difficult, executives say.
Brent Overbeek, senior vice-president for revenue management and network planning, says the airline hopes to reinstate operations to Asia soon, with Korea and Japan on the list ahead of Australia and New Zealand.
The Boeing 787s were part of an ambitious strategy to expand further in Asia, and possibly bring a European destination into the Honolulu-based carrier's network in the mid-term. Those plans are on hold, however, as the world waits to see how the long-term effects of the pandemic play out.
Currently, Hawaiian operates Airbus A330-200s on its long-haul routes to Asia, as well as to Boston and New York City, which are two of the longest domestic flights in the world.
But for the moment, most of those flights remain suspended due to the global health crisis.
"It will take years, not months, to get back to pre-Covid-19 levels," Ingram says.