Hawaiian Airlines anticipates that up to four of its Airbus A321neos will be grounded at any given time through the first quarter due to ongoing Pratt & Whitney (P&W) "engine challenges".
During Hawaiian Holdings' third-quarter earnings call on 24 October, chief executive Peter Ingram described how operations are affected by RTX and subsidiary P&W's recall of thousands of PW1100G geared-turbofan (GTF) engines, which power Hawaiian's A321neos.
"Obviously, the situation has been frustrating," he says. "We have been living a little bit too close to the razor's edge in terms of the ability of the market to withstand it… We really do need Pratt to provide us with more certainty going forward."
Hawaiian has reached terms with P&W on short-term compensation for "their failure to provide required engine spares over the course of several months", Ingram says.
The carrier will be compensated in the form of maintenance credits.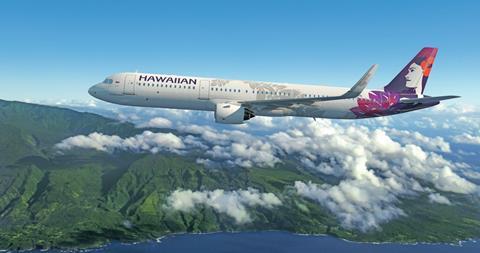 RTX said in September it expects "an average of 350" GTF-powered A320neo-family jets will be grounded "from 2024 through 2026, with a peak of 600 to 650 aircraft-on-ground in the first half of 2024".
P&W has disclosed that the defect results from a "rare" powdered-metal problem that can lead disks to fail.
"In addition to receiving more details about inspection requirements beyond the end of this year, we have also seen a number of engine removals not associated with the powdered-metal inspection issue," Ingram says. "These removals contributed to an elevated cancellation rate in the early days of the current quarter."
The cancellations "underscore the importance of getting more certainty about the availability of engines", he adds.
Hawaiian currently has two A321neos grounded due to GTF engine issues and is planning to have up to four grounded for the next several months. Cirium fleets data show Hawaiian now has 12 A321neos in service.
"We expect the situation for 2024 will improve as our engine inventory will be bolstered by the return of several engines that are already in the MRO pipeline," Ingram says.
Meanwhile, Hawaiian is extending leases for its widebody A330 aircraft as a means of maintaining its network, according to chief financial officer Shannon Okinaka.
"We have executed two-year extensions for four A330 leases that would have otherwise expired in 2024," she says. "In addition ownership-cost improvements, the extensions will collectively enable us to maintain our network plans and mitigate the impact of ongoing A321 engine challenges."
The Honolulu-based carrier has an additional 12 aircraft leases set to expire between 2025 and 2029.