Start-up Hong Kong carrier Greater Bay Airlines has ordered 15 Boeing 737 Max 9s and made a "commitment" to order five 787s.
The incoming Max 9s will form the "backbone" of Greater Bay's future fleet, enabling it "to operate more flights between Hong Kong and major cities in Asia and Mainline China", Boeing says in disclosing the deals on 3 March.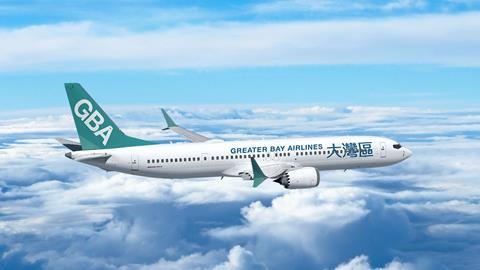 "The 737-9 will allow Greater Bay Airlines to open up new routes from Hong Kong with unmatched economics," adds the airline's chair Wong Cho Bau. "The new order will bring fantastic growth possibilities to Greater Bay Airlines and enable us to strive for excellence in an innovative way for our valued customers."
Boeing does not specify when it expects to deliver the 737 Max 9s to Greater Bay, deferring comment to the airline, which did not immediately respond to questions from FlightGlobal.
Greater Bay received its operating certificate in October 2021 and began flying revenue flights in July last year, amid ongoing pandemic-related travel restrictions.
Boeing says the agreement also includes a commitment for five Dreamliners to support the airline's long-term plan to launch international long-haul services. It confirms Greater Bay has not yet ordered 787s.
Greater Bay's current fleet includes three 737-800s, which it deploys from Hong Kong to destinations including Bangkok, Taipei, Tokyo and Seoul.
"The [Max 9s] will provide GBA with unmatched efficiency and reliability and lower operating costs, while continuing to provide a premium on-board experience for its passengers," says Boeing Commercial Airplanes chief executive Stan Deal.
Greater Bay intends to expand its fleet with used 737-800s ahead of receiving the new incoming Max 9s, Boeing adds.
Update on 4 March 2023: Greater Bay says it intends to receive the new 737 Max 9s between 2024 and 2027, with the 787 deliveries remaining "subject to our long-haul scheduled service planning".