Indian low-cost carrier IndiGo has downplayed a report about possible orders that would eclipse Air India's recent commitments for new aircraft.
On 3 March Reuters, citing industry sources, reported that IndiGo is in talks with both Airbus and Boeing for an order amounting to over 500 new aircraft.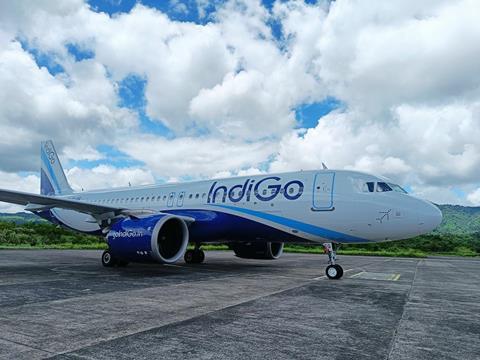 In February, French finance minister Bruno Le Maire reportedly said that IndiGo was on the verge of making a big order.
In response to the reports, IndiGo has issued a response that appears to downplay this possibility.
"We constantly evaluate and discuss opportunities with aircraft manufacturers, but at this stage it's pure speculation," says the carrier.
"At present, our objective is to enable codeshare connectivity to the US and Canada via our partnership with Turkish Airlines after the required application and approval process. We will share more information as and when we have an update."
In a recent interview with FlightGlobal, IndiGo chief executive Pieter Elbers observed that IndiGo's orderbook of over 500 aircraft will provide a steady flow of deliveries in the coming decade.
"We're in a good position because we have a backlog of 500 orders, which means for the years to come until the end of this decade, we have a steady flow of aircraft coming," he said.
Cirium fleets data suggest that IndiGo has 272 in-service aircraft, of which 232 are Airbus A320 family jets, the majority of which are the re-engined NEO variant. It also operates 39 ATR 72-600s and a single Boeing 777-300ER that is wet-leased from Turkish.
In February, Air India announced commitments for 470 Airbus and Boeing aircraft. The epic commitment came as the carrier works to re-build itself under the ownership of India's Tata Group.
In a recent media roundtable, Air India chief executive Campbell Wilson did not indicate how deliveries of these aircraft will pan out, but said the airline is looking to triple the size of its fleet "over the next few years".
Air India has over 100 aircraft in operation. In addition to the commitments for 470 aircraft, It recently signed a series of fresh leases for used aircraft, including Airbus A320neos and Boeing 777s.