Japanese start-up Toki Air has taken delivery of its first aircraft, an ATR 72-600 leased from Nordic Aviation Capital.
It is the first of two turboprops that the Niigata-based low-cost airline will fly when it begins operations in 2023. The aircraft, registered JA10QQ, was originally destined for Romanian flag-carrier Tarom but is now leased for 10 years by Toki Air.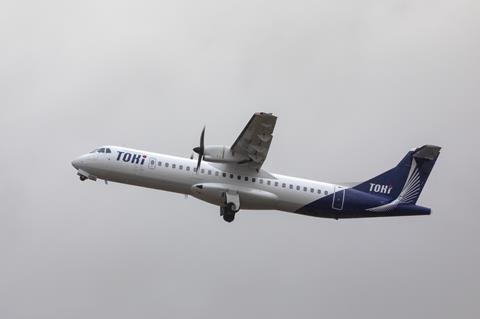 Toki Air is the fourth Japanese ATR operator, after Amakusa Airlines, as well as Japan Airlines units Japan Air Commuter and Hokkaido Air System. The airline is affiliated with Tokyo-based air transport training and support services company Toki Aviation Capital.
Toki Air representative director Masaki Hasegawa says: "This first aircraft will allow us to serve our higher purpose by providing a responsible and reliable air connection to the communities of the Niigata Prefecture and surrounding regions. We look forward to seeing Toki flying in the skies of Japan."
ATR is bullish about its prospects in the Japanese market. In June, the airframer disclosed a forecast of 100 ATR aircraft in the country in the medium term.
The company adds: "In countries committed to reducing carbon dioxide emissions and preserving biodiversity such as Japan, ATR aircraft have proven to be successful: they connect communities and businesses across the archipelago in the most responsible way."