JetBlue Airways has taken delivery of its first Airbus A321LR aircraft, with which it intends to launch transatlantic service later this year.
The aircraft with the tail number N4022J was handed over to the airline at the European airframer's facility in Hamburg, Germany and arrived at its home base at New York's John F Kennedy International airport on 29 April.
It is the first of two examples the airline expects to join its fleet this quarter.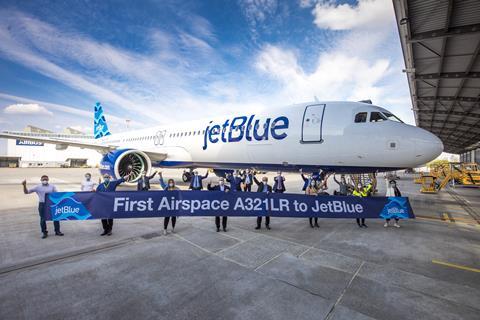 "The delivery of our new A321LR sets the stage for a new era at JetBlue in which we now have an aircraft allowing us to stretch our wings and become a true global carrier offering flights beyond the Americas for the first time ever," says JetBlue chief executive Robin Hayes. "The A321LR platform … is the right size for us and will allow us to effectively compete with our award-winning service and low fares on flights between the US and London."
The aircraft features the carrier's Mint premium section, which has 24 lie-flat seats. The economy section is outfitted with 114 seats. The Airbus Airspace cabin - offering more comfort, mood lighting and larger luggage bins - is the first of its kind on a single-aisle aircraft.
The airline hopes to launch service from New York and Boston to the UK capital later this year, but has not yet confirmed which London airport it will serve. However, in March, UK slot coordinator Airport Coordination Limited showed the carrier had been assigned 270 slots at London Heathrow between 2 August and the end of October.
According to Cirium fleets data, the airline has 68 A321s in its order book with the European airframer, and in 2019 converted 13 aircraft to the LR version and another 13 to the XLR version.
The jet is powered by two Pratt & Whitney geared turbofan engines which offers "the range of a wide-body but with the economics of a single-aisle aircraft", the airline says.
"The LR's range of up to 4,000 nautical miles is made possible by three additional centre fuel tanks and the aircraft delivers 30% fuel savings and nearly 50% reduction in noise footprint compared to previous generations of aircraft," JetBlue adds.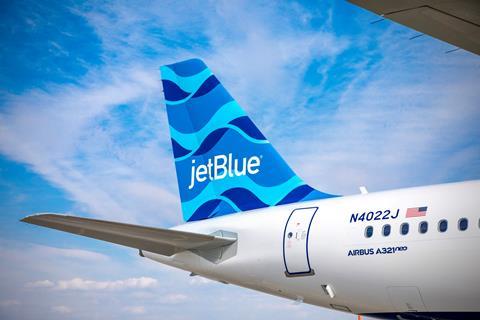 On 19 April UK regulators cleared JetBlue Airways to launch flights to London. The plans have been in the works since 2019 but were delayed by the coronavirus pandemic.
Earlier this week Hayes told analysts on the company's first quarter earnings results call that the airline plans to publicise the routes "soon" and flights will begin "later this summer". JetBlue's website is not yet accepting bookings for flights to London.
The company lost $247 million in the first three months of 2021, slightly better than its $268 million loss during the same period one year ago, just as the coronavirus crisis was making itself felt in the industry.