Korean Air has taken delivery of its first A321neo – marking its entry as the region's newest A320 family operator – as it unveils new short-haul cabin products including full-flat seats in business class.
The aircraft (HL8505, MSN10977) is the first of 30 A321neos the SkyTeam carrier has on order, and is powered by Pratt & Whitney PW1100G engines.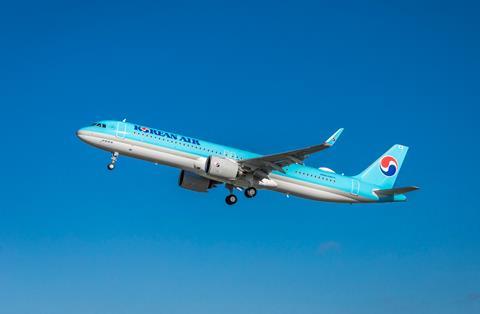 Deliveries of all 30 aircraft are expected to be completed by 2027, says Korean Air.
The A321neos are part of a broader medium-term fleet replacement strategy which will also see the airline receive more Boeing 787s and 737 Max aircraft.
Korean Air says the narrowbodies will be deployed on short-haul routes to Japan, Southeast Asia and China, and will be configured to seat 182 passengers in two classes, with eight seats in business class and 174 in economy.
The carrier is the first Korean carrier to feature fully lie-flat seats in business class on narrowbody aircraft. Its other narrowbodies – 737s and A220s – all feature recliner-style seats.
"The A321neo's fully lie-flat business seats will provide seamless comfort to transfer passengers, who have combined itineraries of long-haul flights on the Americas and Europe routes, and short-haul flights on Southeast Asia, China and Japan routes," states Korean Air.
The new products will also feature a different colour scheme: dark greys and gold in business class and woven "bold colours" with navy-coloured headrests in economy class. It is a marked change from its current colour scheme, which sees business class seats in turquoise, while economy seats are a darker shade of blue.