Lion Air Group chairman Rusdi Kirana has reiterated the airline group's commitment to the Boeing 737 Max, with its Batik Air Malaysia unit set to take its first 737-9 aircraft early 2023.
Kirana was speaking at a press conference in Kuala Lumpur on 11 July, announcing the rebranding of airline unit Malindo Air to Batik Air Malaysia, as well as the official re-entry of Boeing's 737 Max aircraft into its fleet.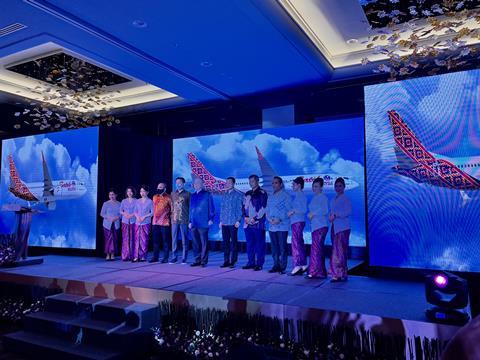 Indonesia-based Lion Air Group, which also includes Lion Air, Super Air Jet and Batik Air of Indonesia, as well as Thai Lion Air, has more than 200 737 Max aircraft – a mix of Max 8s and Max 9s – on order. Kirana, who was responding to a question from FlightGlobal, says the airline group is looking to continue operations of the type, some of which have already returned to service in Indonesia.
"[Boeing] did a lot of work to make sure that the [737 Max] is safe for travel…We have [more than] 200 aircraft on order with Boeing, and we will still [take delivery of them] because…we will need more aircraft as demand comes back…to reduce ticket prices," Kirana says.
His comments come as Batik Air Malaysia looks set to have 17 Max 8s in its fleet by year-end. The airline has four in operation now, operating them to destinations farther afield including to Pakistan and Australia.
It confirms that the new aircraft will be a mix of fresh deliveries from Boeing, as well as existing 737 Max aircraft from within the Lion Air Group.
Airline chief Mushafiz Mustafa Bakri tells FlightGlobal the airline is working with US and Malaysian regulators to get the larger Max 9 certificated. He expects the airline to take delivery of four Max 9s by the first quarter of 2023.
As recently as September 2021, media reports emerged that the airline was looking to return the 737 Max to service, in the wake of Malaysia lifting an operational ban. The airline, however, remained coy about its fleet plans.
Batik Air Malaysia, then known as Malindo, was the first airline in the world to operate the 737 Max in 2017. However, since the aircraft was grounded in 2019 following two fatal crashes, it has withdrawn its fleet of 737 Max jets from service.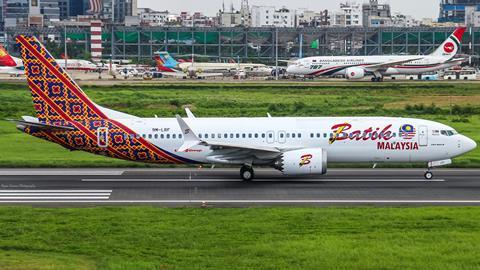 A 737 Max operated by sister carrier Lion Air crashed in 2018 after taking off from Jakarta, killing all 189 passengers and crew. A subsequent crash involving an Ethiopian Airlines 737 Max in 2019 prompted regulators globally to ground the aircraft.
Indonesia was among the last few countries around the world to re-certify the aircraft following the grounding.
According to Kirana, Indonesia's Lion Air has about 100 aircraft – or about 80% of its operational fleet – flying now, including 737 Max aircraft.