Lufthansa has taken delivery of its first Boeing 787-9, as the airframer resumes deliveries of the type to European customers after a hiatus of more than a year.
The aircraft, registered D-ABPA, is the first of 32 787s that Lufthansa has on order. The German carrier will initially deploy the aircraft on domestic German routes for training, before operating it to Toronto.
Lufthansa expects deliveries for the remaining 787s to run from this year to 2027. In May, it ordered seven more 787-9s to help offset the delay in 777-9 deliveries, which it has 20 examples on order.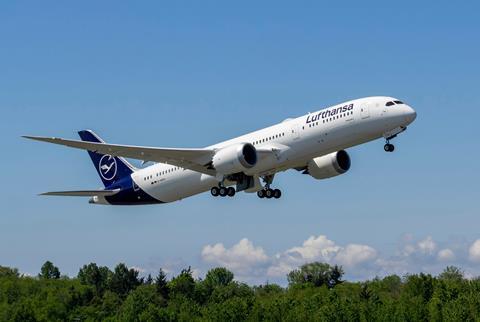 Boeing in early August resumed deliveries of the 787 after a production pause owing to manufacturing quality issues largely involving gaps between fuselage sections being larger than specified.
Following the green light from the US Federal Aviation Administration, Boeing delivered a Boeing 787 to American Airlines.
The arrival of Lufthansa's first 787 marks a restart in European deliveries, notes Boeing Commercial Airplanes chief Stan Deal. Other European customers with commitments to the type include British Airways and KLM.
Separately, Lufthansa's cargo unit will beef up its narrowbody freighter fleet, with the imminent arrival of a second Airbus A321 passenger-to-freighter (A321P2F) jet.
The aircraft, registered D-AEUA, is undergoing conversion work at ST Engineering's facilities in Singapore, and will join the fleet this year.
Another two more A321P2Fs will be added in 2023, says Lufthansa Cargo, which took delivery of its first example in March this year.
The new aircraft will be operated by Lufthansa Cityline under a wet-lease arrangement, and will operate intra-European cargo routes, including from Frankfurt to London, Madrid and Istanbul.
Lufthansa Cargo commercial chief Ashwin Bhat says: "I am very pleased about the expansion of our A321 freighter network and capacity. Complementing our 777F and belly capacity, we can now offer even shorter transport times within European and to selected medium-haul destinations."