Lufthansa Group plans to have reactivated half of its fleet by October as it sees increased booking demand following an easing of travel restrictions in several countries.
The airline group says it will gradually ramp up its number of deployed aircraft to more than 380 over the remainder of the summer season, which runs until 24 October – "200 aircraft more than in June", it adds.
All of Lufthansa's airline subsidiaries combined operated around 760 aircraft before the coronavirus crisis. But Lufthansa has responded to the pandemic by permanently grounding some aircraft, and intends to operate its pre-crisis network with around 660 aircraft from 2023.
In July, the group intends to operate more than 40% of originally planned schedule, it says. By the end of October, over 90% of originally planned short- and medium-haul destinations are to be served again, along with over 70% of long-haul destinations.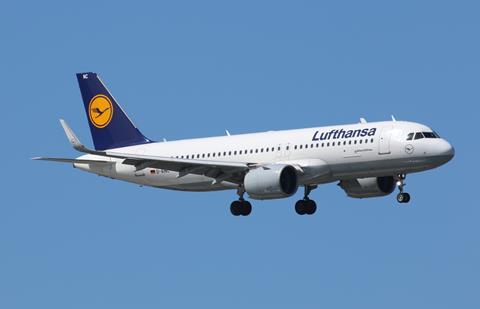 "Demand is increasing, in the short term but also in the long term," states the group's passenger airline chief, Harry Hohmeister. "We are therefore consistently expanding our flight schedule and our global network and pushing ahead with our restart."
Under the plan, Lufthansa will its grow intercontinental network to include Dallas, Detroit, Las Vegas, Miami, New York JFK, Orlando, Philadelphia, San Francisco, Seattle and Washington DC, alongside Cancun, Mauritius, Seoul, Singapore and Windhoek. From Munich, the carrier intends to serve Charlotte, Denver, Newark, Osaka and Tokyo.
Some weekly 150 weekly frequencies will be operated to America, about 90 to Asia, 45 to the Middle East, and 40 to Africa, Lufthansa says.
Its subsidiary Swiss plans to serve 11 long-haul destinations from Zurich in July, and 17 in October. Austrian Airlines, meanwhile, is set to serve more than 50 destinations – a mix of short- and long-haul – from July.
The group's low-cost arm Eurowings plans to serve 80% of its network in the course of the summer, it says. Brussels Airlines intends to operate 45% of its original schedule in September and October.
Lufthansa asserts that "in principle, the risk of contracting the virus during a flight is extremely low".
The group is compelling passengers to wear nose and mouth covering throughout its flights, from boarding to disembarkation.
All of Lufthansa's health and safety procedures are based on "latest findings and hygiene standards of experts" and will "be reviewed in order to guarantee the safety of everyone", it says.