Luxembourg's Luxair has ordered two Boeing 737 Max 8s and signed a deal to lease from Boeing another pair of the narrowbodies, part of a plan to boost its summer capacity.
Boeing disclosed the deal on 3 March, saying Luxair will receive the two leased jets first, this year.
Luxair expects to receive the two newly ordered Max 8s in the first quarter of 2026, the airline tells FlightGlobal.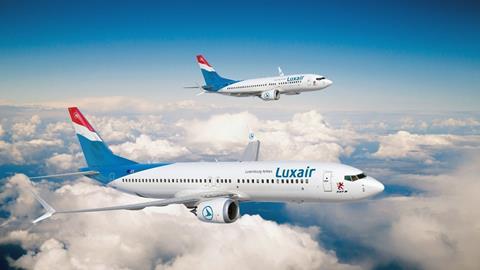 "Luxair will initially lease two [737 Max 8s] that are due for delivery for the summer, ensuring the airline provides its customers with increased capacity and connectivity to more destinations for the busy summer travel season," Boeing says.
Boeing confirms it is the lessor of the two leased 737 Max 8s, which will "come from Boeing's aircraft portfolio". Luxair tells FlightGlobal it plans to operate those leased jets "temporarily" and as "a bridge solution".
"They will be operated by Luxair's crews until the delivery of the two new aircraft the airline has purchased today," Luxair adds.
"Luxair took a large step into the direction of securing its role as the quality airline of Luxembourg", says the carrier's chief executive Gilles Feith. "Today marks just the beginning of the journey of securing the long-term future of Luxair."
The carrier's fleet currently includes four 737-700s, four 737-800s, 11 De Havilland Canada Dash 8-400s and one Embraer 190, according to Cirium data.
Boeing today has also disclosed that Hong Kong carrier Greater Bay Airlines has ordered 15 737 Max 9s.
Story updated on 3 March to include new leasing and delivery details from Boeing and Luxair.