Mesa Air Group, the parent company of Mesa Airlines has signed a new five-year contract with American Airlines to operate 40 Bombardier CRJ900 aircraft for the Fort-Worth-based carrier beginning on 1 January.
The Phoenix-based regional carrier says on 25 November that the contract replaces aircraft agreements that had been set to expire in 2021 and 2022.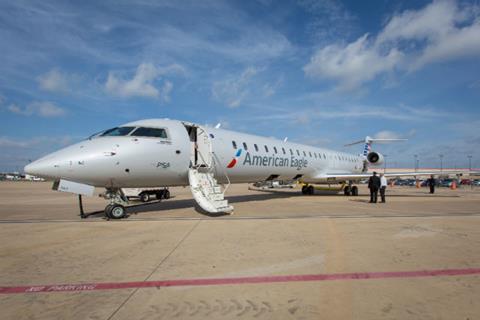 "This new contract will position Mesa for long term stability and improved performance on our American operation," says Mesa chief executive Jonathan Orenstein.
Mesa operates regional routes for Chicago-based United as United Express and for American Eagle.
According to Cirium fleets data, Mesa currently has 53 CRJ900s in service and 11 in storage. Altogether it has about 342 daily departures and 3,200 employees.
Mesa Air Group reported a $15 million operating profit during its third quarter that ended on 30 June even as operating revenue plunged 60% to $73 million after passenger demand remains soft for the carrier's airline partners.