Qatar Airways does not expect to operate its Airbus A380s for at least two years, according to the Middle Eastern carrier's chief executive Akbar Al Baker.
"I don't think that the A380 will get back into the skies in the short term," Al Baker states during today's Airlines 2050 conference, citing the type's unfavourable economics amid the coronavirus crisis.
The carrier would need to see the "growth we achieved in 2019" for it to consider reintroducing its examples of the type.
A decision to bring the superjumbo back sooner would therefore be "very foolish", Al Baker believes.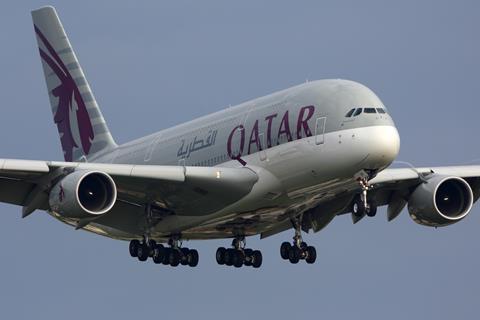 "There will not be that kind of demand, and if demand starts to grow and people start deploying the A380, you will only be able to achieve [the reintroduction] by dumping the price [of tickets]," he continues.
"And once you dump the price, you become unsustainable."
Airlines instead need to focus on recovering the losses incurred during the crisis, Al Baker explains.
That means "we don't think we are going to operate our A380s for at least the next couple of years", he concludes.
Cirium fleets data shows Qatar Airways has 10 A380s in storage.
UK aviation summit Airlines 2050 – launched last year by airline groups Airlines UK, BAR UK and IATA UK, alongside FlightGlobal – was held today via a live online stream.