Norwegian has signed letters of intent to lease a further 13 Boeing 737-800s, it announced on 27 October, in deals that could facilitate the return of 737 Max jets to its fleet.
The carrier has the right, under some of the leases, to substitute 737-800 aircraft for the latest-generation Boeing and Airbus narrowbodies, it says, in reference to the 737 Max and A320neo families respectively. "This will enable Norwegian to continue its focus on offering the most environmentally friendly travel options for our customers," the airline states, without indicating when substitution decisions might be made.
During an overhaul of its business amid the Covid-19 crisis, Norwegian's fleet consolidation involved the cancellation of orders for dozens of 737 Max jets and a decision not to bring back into service its 18 already-delivered examples of the type, as it decided to emerge from a 'hibernation' period as a 737-800-only operator. It currently has 51 of the latter in its fleet.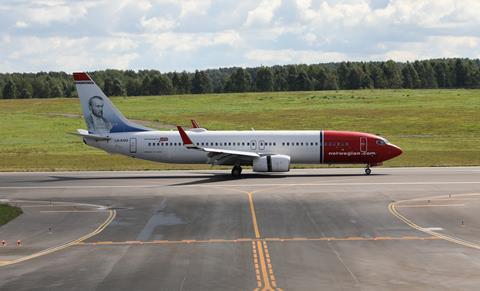 Deliveries of the 13 737-800s are expected to begin this year and continue through the first quarter of 2022, Norwegian states, with lease terms of between five and eight years depending on the age of the aircraft. The leases include 'power-by-the-hour' arrangements for winter seasons 2021-2022 and 2022-23, it adds.
"The lessors are experienced and have prior relationships with Norwegian," the Scandinavian airlines says without naming the companies involved.
The aircraft are being brought in to ramp up capacity ahead of Norwegian's summer 2022 flying programme, the carrier states, noting that its schedule features more than 250 destinations.
Speaking in late August, Norwegian chief executive Geir Karlsen said the airline was aiming to secure "10 to 20" more aircraft for 2022, potentially taking its fleet to around 70 narrowbodies. He also said that Norwegian was planning to "take out much more capacity than before during the low season" as a long-term strategy, making power-by-the-hour leases attractive to the airline.