Qantas has tentatively selected the Airbus A350-1000 for its Project Sunrise ultra-long-haul route initiative, following a competition against the rival Boeing 777X.
The Australian carrier would order up to a dozen aircraft, and says a final "go or no-go" decision will take place in March 2020.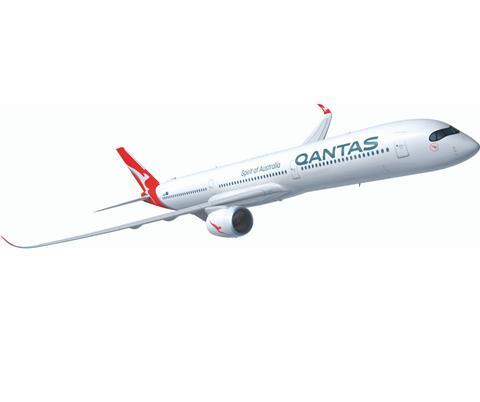 Airbus has agreed to extend the deadline to confirm delivery slots from February 2020 to March 2020, says Qantas.
"This provides additional time to negotiate an industrial agreement without impacting the planned start date of Project Sunrise flights," the carrier adds.
Qantas plans to commence the ultra-long-haul services in the first half of 2023.
The airline says it carried out a detailed evalutation of both twinjets but says the A350-1000 will be its "preferred aircraft" should the Project Sunrise programme go ahead. The programme remains dependent on other factors.
Qantas chief Alan Joyce says: "The A350 is a fantastic aircraft and the deal on the table with Airbus gives us the best possible combination of commercial terms, fuel efficiency, operating cost and customer experience."
Qantas has carried out two test flights using Boeing 787-9s operating non-stop to Sydney from New York and London, and will conduct the final one, on the New York-Sydney route, on 17 December.
The carrier says the A350, powered by Rolls-Royce Trent XWB engines, has a "strong reliability record".
Airbus will increase the maximum take-off weight of the jet, and install additional fuel tank capacity, to deliver the required performance for the Sunrise routes, says Qantas.
"No orders have been placed but Qantas will work closely with Airbus to prepare contract terms for up to 12 aircraft ahead of a final decision by the Qantas board," it adds.
Qantas says the Australian regulator has provisionally advised that it "sees no regulatory obstacles" to the Sunrise flights.
But the airline still needs to finalise an agreement with its pilot corps. "The discussions are aimed at closing the last remaining gap in the Project Sunrise business case," says the carrier.
Qantas says it has proposed "a number of suggestions" to cockpit crew representatives on bridging this divide while still offering pay increases and promotional opportunities to long-haul pilots.
Discussions are focused on efficiency gains, it states, including the ability to use the same pilots for the Sunrise A350s and Qantas's fleet of A330s.
"From the outset, we've been clear that Project Sunrise depends on a business case that works," says Joyce. "We'll only commit to this investment if we know it will generate the right return for our shareholders given the inherent commercial risks."