Qantas will reactivate a pair of Airbus A380s sooner than planned, as it also seeks to bring forward the arrival of three brand new Boeing 787-9s.
The two re-activated A380s will operate the Sydney-Los Angeles route from April 2022, with one aircraft likely to fly to Sydney by the end of this year for crew training, says Qantas.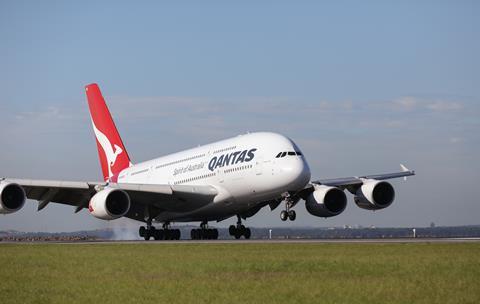 This moves up previous plans, which had called for five A380s with updated cabins to return in July 2022 to serve LA and London.
In its financial results for the year ended 30 June 2021, Qantas listed 12 A380s as being in storage in the California desert since the coronavirus pandemic crushed air travel in early 2020. Of these 12 aircraft, it said only 10 were expected to return to service.
In addition, the carrier wants to bring forward the delivery of three 787-9s "several months earlier than planned as demand increases." These aircraft are now in storage with Boeing.
Five of the 11 787-9s in storage at Alice Springs will be reactivated in the coming months.
"Our customers and crew love flying on our flagship A380s, so news that they are will be back flying to Los Angeles again from April next year will be very welcome," says Qantas chief executive Alan Joyce.
The fleet changes come as travel restrictions related to the pandemic are being slowly relaxed in Australia and across the Asia-Pacific
Qantas adds that all Australia-based employees can return to work from 21 December, as well as a number of route updates.
One of these is the launch of a three-times-weekly Sydney-Delhi service on 6 December operated with A330s, which will become a daily service by the end of 2021 pending Indian regulatory approval. These will continue until "at least late March 2022" assuming demand is sufficient. Sydney-Delhi flights will operate via Darwin; return flights will be direct.
Qantas/Jetstar push up route re-launches:
Sydney to Singapore: Qantas flights will resume on 23 November 2021, four weeks earlier than scheduled, operating three days per week with A330 aircraft. Services will ramp up to daily from 18 December 2021. Jetstar will fly from Melbourne and Darwin to Singapore from 16 December 2021.
Sydney to Fiji (Nadi): Qantas flights will be brought forward to 7 December 2021 from 19 December 2021. Four return flights a week will be operated by 737 aircraft. Jetstar flights to Fiji will resume on 17 December 2021. Within 48 hours of Fiji announcing its reopening, Jetstar saw a 200 per cent increase in sales versus pre-COVID levels, selling more fares than a typical seven day period.
Sydney to Johannesburg: Qantas flights will resume on 5 January 2022, three months earlier than scheduled. Three return flights a week will be operated by 787 aircraft.
Sydney to Bangkok: Qantas flights will resume on 14 January 2022, more than two months earlier than scheduled. Five return flights a week will be operated by A330 aircraft.
Sydney to Phuket: Jetstar flights will resume on 12 January 2022, more than two months earlier than scheduled. Three return flights a week will be operated by 787 aircraft.
The re-launch of Qantas's Sydney-Singapore service will be moved up to 23 November from 16 December, with Jetstar to re-start the Melbourne-Darwin-Singapore route from 16 December.
In addition, Sydney-Fiji, Sydney-Johannesburg, Sydney-Bangkok, and Sydney-Bangkok will all be re-launched earlier than planned.
Services to Honolulu, Vancouver, Tokyo, and New Zealand are set to commence in December 2021.
All these flights, however, are limited to Australian citizens owing to federal government policy.
"Discussions have commenced with the NSW Government about supporting some of Qantas' international services to Sydney through its recently announced Aviation Attraction Fund," adds the carrier.
"Discussions are also underway with the Indonesian Government about welcoming fully vaccinated Australians back to Bali with reduced or no quarantine requirements, which would mean the resumption of Jetstar and Qantas flights from Sydney to the holiday island months earlier than scheduled."
Qantas and Jetstar will beef up capacity between Melbourne and Sydney as quarantine-free travel is allowed to resume between the two cities. Before Covid-19, the Qantas Group operated up to 58 return services between the two cities, but this fell to as low as one flight daily during the pandemic.