Qatar Airways chief executive Akbar Al Baker has indicated he is ready to place a launch order for a new freighter with Boeing or Airbus by the end of the third quarter, though he added the caveat that the carrier would need to see concerns around the A350 settled before committing to a deal with the European manufacturer.
Al Baker earlier this year indicated an interest in becoming the first customer for freighter versions of the A350 or Boeing 777X – neither of which has yet been formally launched.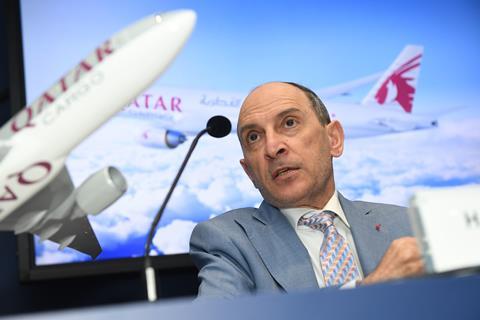 Speaking during an interview for the FlightPlan event on 21 July, Al Baker indicated that Qatar Airways could be ready to make a commitment within three months.
"We will be ready to place a launch customer order with either of them before the end of the third quarter of this year," providing the freighter programmes are launched, he says.
But Al Baker stresses that Airbus would have to first address the carrier's ongoing concerns with the A350, of which it already operates the passenger version and has previously flagged its unhappiness about an undiclosed issue.
While he would not be drawn into the detail, Al Baker says: "We will not take any aeroplanes from Airbus until such a time that the issues we have, the concerns we have, are addressed by them.
"We have a serious concern on those airplanes. They are just trying to dilly-dally and drag their feet, instead of becoming real, and solving the problem their aircraft have."
Cirium fleet data shows that Qatar Airways has 19 A350-1000s and 34 -900s – 13 of which are in storage. It has a further 23 A350-1000s on order.
Airbus says it is in discussion with the airline, the details of which are confidential.
Al Baker was asked about earlier comments he made in an interview with Bloomberg, in which he reportedly said the stand-off could cause Airbus problems in its relationship with IAG and LATAM – airline groups in which Qatar Airways is a minority shareholder.
"I don't want to influence any of those airlines, we are just a strategic shareholder," he says. "But when they know that Qatar Airways has an issue, it raises their eyebrows too and they will want to know what this problem is, because they are also flying that aircraft too. That problem is not only unique to [Qatar], those problems will be on their aircraft too."
IAG carriers British Airways and Iberia operate A350s, while LATAM previously divested its fleet of the type.
Al Baker also reiterated his belief that no more than half its grounded fleet of A380s would likely return post-pandemic, citing concerns over the ability to fill ultra-large aircraft and the environmental performance of the type versus more modern widebodies.
"If at all we operate them, I don't think it will be more than five A380s that go back flying," he says.