Amid Emirates triumphant reintroduction of the Airbus A380, Gulf rival Qatar Airways has restated its intention to keep its superjumbo fleet firmly grounded, citing environmental and commercial concerns.
Qatar Airways grounded its 10 Engine Alliance GP7200-powered A380s in March in the wake of the coronavirus crisis. The aircraft, which are configured in a three-class 517-seat layout, will not return to service until the level of passenger demand justifies it, says the airline's group chief executive Akbar Al Baker.
"Having closely studied the environmental impact numbers, flying such a large aircraft with a low load factor does not meet our environmental responsibilities or make commercial sense. Our young fleet of Airbus A350 and Boeing 787 aircraft are a much better fit for current global demand," he says.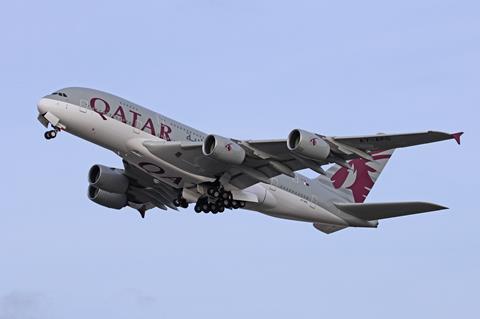 Speaking to FlightGlobal in June, Al Baker said he did not expect the A380 fleet to return to service "for at least a year, if not more" due to low passenger demand. "It will only be a miracle if we operated some of those aeroplanes earlier, depending on how the rebound in air travel will come."
Emirates returned the A380 to service on 15 July after a three-month grounding, initially operating one daily rotation from Dubai to London and Paris.
Qatar Airways says it uses internal benchmarking comparing the A380 to the A350 on routes from Doha to Frankfurt, Guangzhou, London, Melbourne, New York, Paris, Sydney and Toronto. This shows that on a typical one-way flight, compared with the A380, the A350 saved a minimum of 16t of CO2 per block hour.
"The analysis found that the A380 emitted over 80% more CO2 per block hour than the A350 on each of these routes," says Qatar. "In the cases of Melbourne, New York and Toronto the A380 emitted 95% more CO2 per block hour with the A350 saving around 20t of CO2 per block hour."
Qatar Airways says that until passenger demand recovers to appropriate levels, it "will keep A380s grounded, ensuring it only operates commercially and environmentally responsible aircraft".
The airline relaunched services to 11 destinations on 1 July, and by the end of this month its network will expand to more than 450 weekly flights to over 70 points.