Australia's Regional Express (Rex) will further expand its Boeing 737-800 fleet this year, after signing a letter of intent to lease two more examples.
The two aircraft will join the Rex fleet in June and July, bringing the total number of 737s to nine examples.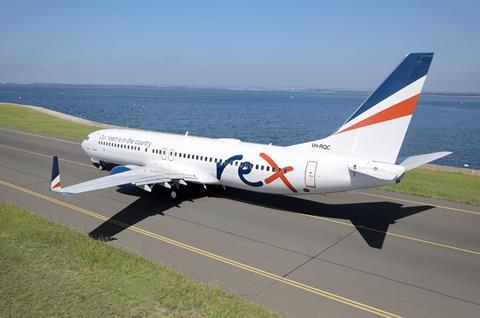 Rex deputy chairman John Sharp says the airline is "still deciding" where to deploy the new aircraft, and that Rex "will explore all options".
Rex operates its 737s on domestic trunk routes on the Australian east coast, flying to major cities such as Melbourne, Brisbane and Sydney.
The airline most recently disclosed improving profitability from its jet operations: in December, mainline jet operations recorded a pre-tax profit of A$4 million ($2.8 million), up from November's A$2.8 million profit.
Rex, which also operates a large fleet of Saab 340s on regional routes, first disclosed plans to expand its jet fleet in August 2022. Airline executive chairman Lim Kim Hai said then that the airline was in the process of inducting its seventh 737 and was in "advanced discussions" for a further two aircraft.
The airline has reported continued growth in domestic passenger numbers, and expects a return to profitability for the year to 30 June. It is due to release its financial results for the half-year to 31 December 2022 by end-February.