Royal Jordanian Airlines and Embraer have signed a memorandum of understanding for the carrier to introduce 10 E2-family jets into its fleet "within the coming several years".
The tentative agreement – announced at the Istanbul air show on 6 October – suggests Royal Jordanian will operate the E190-E2 and E195-E2 variants of the regional jet.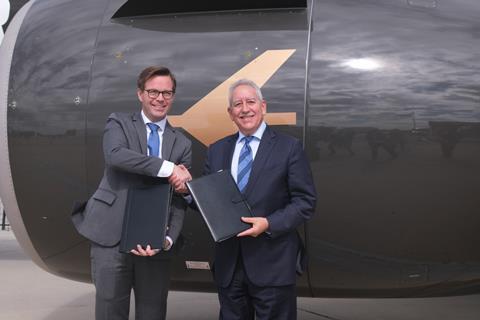 Days earlier, on 2 October, Royal Jordanian had trailed an upcoming regional jet commitment as it announced a fleet-modernisation strategy that will also involve the airline taking Airbus A320neos and, potentially, more Boeing 787s.
The Embraer MoU follows "feasibility studies" undertaken by the airline to decide on replacements for its E175 and E195 jets, with the airline currently operating two of each type. Its fleet also features five A319s.
While the E2s are intended to replace older types, Royal Jordanian chief executive Samer Majali suggests the incoming aircraft will also be used to grow the carrier's network from Amman.
The E195-E2 will feature 12 business-class seats and 108 in economy, while the smaller E190-E2 will have the same number of business-class seats and 80 in economy.
Royal Jordanian says it intends to increase its fleet from 24 aircraft currently to more than 40 over the next five years.