Ryanair's first Boeing 737 Max 8-200 aircraft is due to land in Dublin today.
The long-awaited delivery of what the Irish carrier has often referred to as the "game-changing" narrowbody follows months of uncertainty over whether the aircraft would arrive in time to enter service this summer.
The first @Ryanair Boeing 737 Max 8-200 (EI-HEN) is en route from Boeing Field in Seattle to @DublinAirport. Due to arrive here shortly before 6pm local time #AvGeek pic.twitter.com/YNLOFGvKpq

— Dublin Airport (@DublinAirport) June 16, 2021
Flight-tracking websites show that EI-HEN – which is painted in Ryanair's mainline colours – left Boeing Field in Seattle at 01:16 local time on 16 June and is due to land at Dublin airport at around 18:00 local time.
As recently as mid-May, Ryanair group chief executive Michael O'Leary said he doubted the carrier would receive any Max jets in time for the summer season, blaming Boeing for the delay.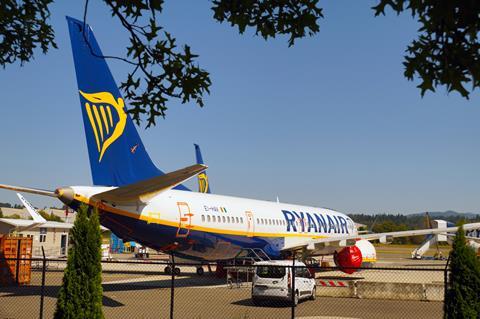 Ryanair has orders in place for 210 737 Max 8-200 jets, having firmed up 75 more units in early December 2020.
The carrier is configuring its high-density 8-200s with 197 seats.