SAS has agreed with Airbus to delay delivery of four A320neos and is in talks with the airframer on further deferrals as the Scandinavian carrier prepares for a slow recovery in traffic after the coronavirus crisis.
Chief financial officer Torbjorn Wist said during a second-quarter results briefing today that "so far" negotiations with Airbus had resulted in the deferral of four A320neos from 2022 to 2024. "We continue our discussion on additional solutions," he says.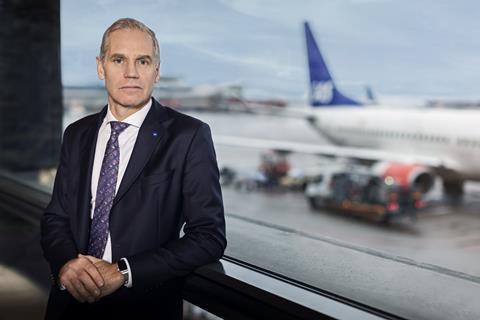 Cirium fleets data shows that SAS has 40 A320neo-family jets on order – including three A321LRs – and holds options on a further 16. Additionally, the Scandinavian carrier has five A350-900s on order and hold six options.
Chief executive Rickard Gustafson said during the briefing that SAS intended to delay "some" deliveries and accelerate the retirement of older aircraft in an effort to reduce the fleet size to match a lower-demand environment. "We might be able to reach a one-type fleet faster than previously anticipated before the crisis," he says.
SAS had already decided to phase out its remaining Boeing 737s and older A320-family jets in order to concentrate its narrowbody operation around the A320neo series.
Earlier this year, Willis Lease Finance disclosed a deal with SAS under which the US engine lessor would manage the decommissioning process for the engines powering the carrier's 737s, to be phased out by 2024. In addition to the 737-700/800s, SAS's fleet includes A319ceos, A320ceos/neos, A321ceos, A330-300s, A340-300s and A350-900s.
As part of an operational ramp-up plan, the carrier intends double its active fleet from 15 to 30 aircraft by mid-June, Gustafson says.
The airline is currently operating A320neos on domestic routes in Norway and Sweden. The narrowbodies will initially be used for additional domestic services and then gradually deployed on selected European routes, while long-haul flights will "primarily" be operated with A330s and A350s, Gustavson says.
In addition to the mainline activity, SAS has operated Bombardier CRJ900 regional jets and ATR 72 turboprops under wet-lease agreements.
The airline is currently conducting turboprop services on Danish domestic routes, and Gustafson foresees scope for additional services and a return of regional jets. He says SAS has renegotiated "a lot" of contracts with its wet-lease partners in the wake of the coronavirus crisis.
Gustafson expresses confidence that traffic demand will recover, but expects it will take "rather a long time" given the prospect of economic recession, passengers' health concerns, and the different timescales under which countries will lift travel restriction.
"The world will not open up in a synchronised manner," notes Gustafson.
He thinks SAS will not face a "new normal" before 2022 and that demand will still be lower then than before the crisis.