Japanese carrier Skymark Airlines has confirmed four firm orders for Boeing 737 Max aircraft, as well as two options.
The company's board has resolved to order a pair of Boeing 737 Max 8s for delivery in 2026, and a pair of 737 Max 10s for delivery in 2026-27.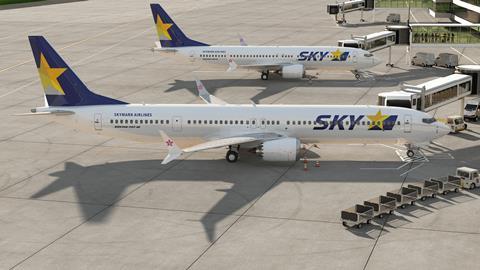 It gives the "catalog price" of the Max 8s at Y16.2 billion ($126 million) per aircraft, and for the Max 10s at Y17.9 billion per aircraft.
Skymark adds that it will receive a "certain discount", but is not disclosing this "at the request of our business partner, but it will be acquired at an appropriate price that reflects the market price."
In addition, it has options for one additional Max 8 and one Max 10.
Boeing had originally announced the Skymark commitment in November 2022. Skymark also plans to take six more Max 8s from lessors.
Based at Tokyo Haneda, Skymark operates 29 737-800s.