Regional carrier SkyWest Airlines will purchase 16 new Embraer 175s to operate for Delta Air Lines.
The Utah-based airline says on 9 August that the first aircraft is scheduled for delivery in the second quarter of 2022. The new aircraft will replace 16 MHIRJ CRJ900s currently operating on the Delta contract, SkyWest adds.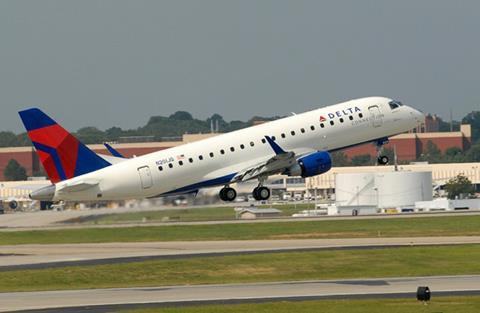 "We are pleased to continue to strengthen our Delta agreement with these new, dual-class aircraft," says SkyWest chief executive Chip Childs. "The E175 continues to serve our partners and passengers well as we help our partners work toward full domestic recovery."
SkyWest says it will own and finance these aircraft.
According to Cirium fleets data, SkyWest has 190 E175s in service and three in storage.
The carrier, which operates aircraft under fixed contracts for United Airlines, Delta, American Airlines and Alaska Airlines, said in July it had 478 aircraft in operation at the end of the second quarter, up from 452 at the end of 2020. Executives have predicted the airline will reach pre-pandemic flying levels by the first part of 2022.
Also in July, the airline also it will place 18 E175s with American in the second half of the year, and two more in 2022. They will enter service in 2022. It will also deliver nine of the type to Alaska Airlines in the next two years.